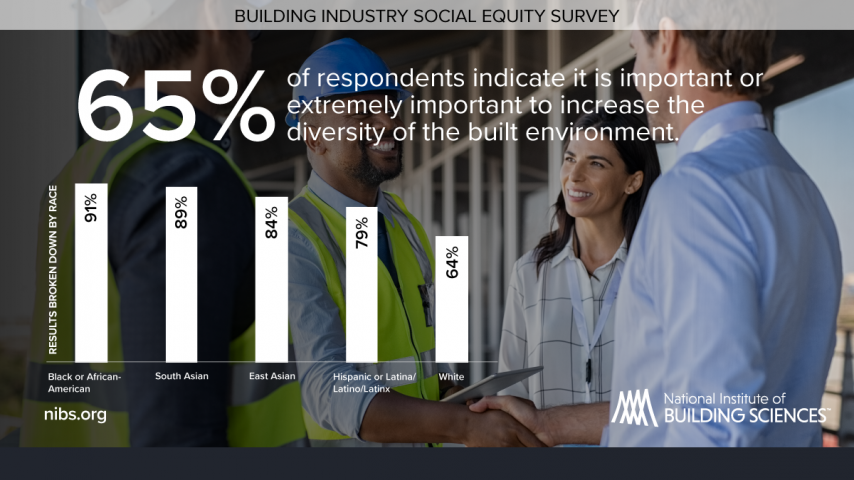 Celebrating Women's History Month: Women in Construction
Women in construction today make up just 10.9 percent of the entire U.S. construction workforce, according to a 2022 Bureau of Labor Statistics Current Population Survey, a monthly survey of households that provides a comprehensive body of data on the labor force, unemployment, earnings, as well as demographic and other labor force characteristics
Of the women in construction population, only 6.7% are African American, 34.2% are Hispanic, and 2.1% are Asian. Clearly, while construction continues to attract more women, more needs to be done to increase diversity, equity, inclusion, accessibility, and belonging (DEIAB).
NIBS' Built Environment Social Equity Survey
This spring, NIBS will release an update to the 2021 Built Environment Social Equity Survey.
In the 2021 survey, NIBS and partner agencies found that nearly two-thirds (65%) of survey respondents were men, and almost three in 10 – 28% were women. Even more revealing, of the women surveyed, 66% indicated that they had experienced discrimination or prejudice in the built environment based on gender.
But there's some good news for women in construction: While women in the U.S. earn on average 82.9 percent of what men make, according to the Bureau of Labor Statistics 2021 Databook, within the construction workforce, women earn approximately 95.5% of what men make in the same position.
Even more promising, the 2020 Diversity wins: How inclusion matters report by McKinsey & Co. found that companies with a considerable number of women in its employee pool are 25% more likely to experience above-average profits than companies with few women.
It's possible that the new millennia has seen the largest rise of women in nontraditional roles, since November 1943, when the aircraft industry employed more than 486,000 women, accounting for an astounding 37 percent of the industry labor force.
Our Commitment to DEIAB
This May, NIBS will host an invitation-only Women Executives in Building Symposium in Washington for C-suite leaders in the built environment.
This event builds on many DEIAB initiatives that already are in place or underway at NIBS, including annual recognition of the Exceptional Woman in Building, during the Building Innovation Conference. Awards nominations for the built environment awards series will be opening soon.
In November, NIBS plans to host a Women's Leadership Forum for built environment professionals. Stay tuned for more details.