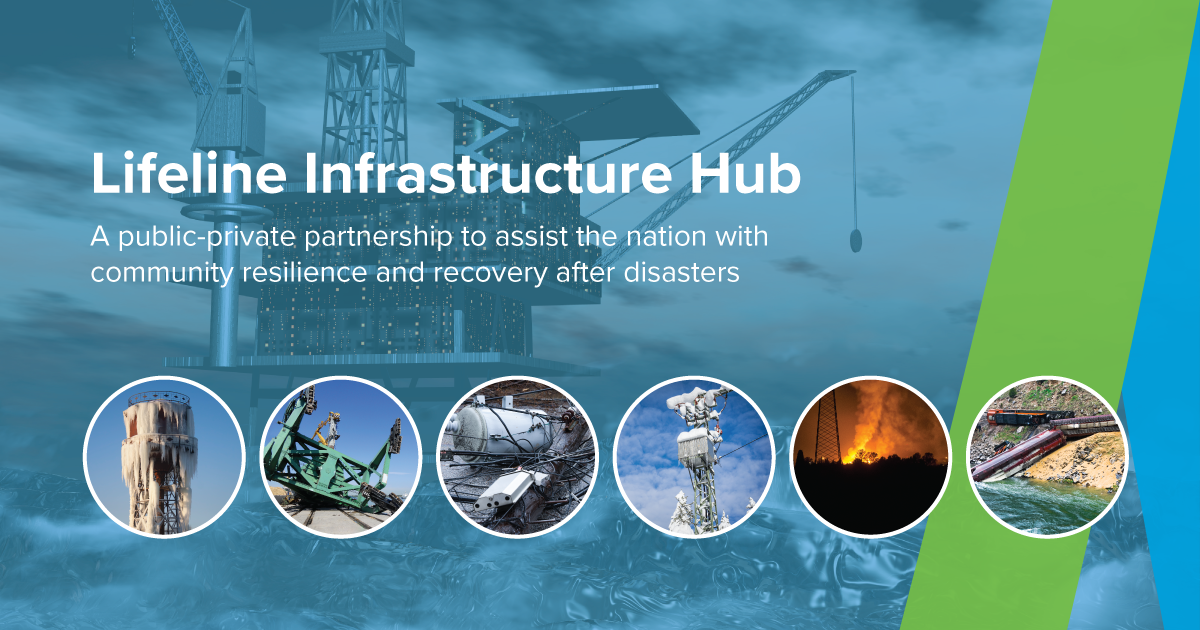 Lifeline Infrastructure Hub
Our nation is experiencing an urgent need to better understand and improve aging and unreliable lifeline systems. These systems include water, wastewater, electricity, natural gas, liquid fuels, communications, and multi-modal transportation—highways and roads, rail, airports, and ports and harbors.

Particularly as natural disasters grow more frequent and destructive, lifeline services are critical to protect our communities and essential for disaster recovery.

The NIBS Lifeline Infrastructure Hub aims to help the nation with community resilience and recovery after disasters. Robust partnerships with government, the private sector, and various stakeholders to advance this effort are crucial for our safety and security.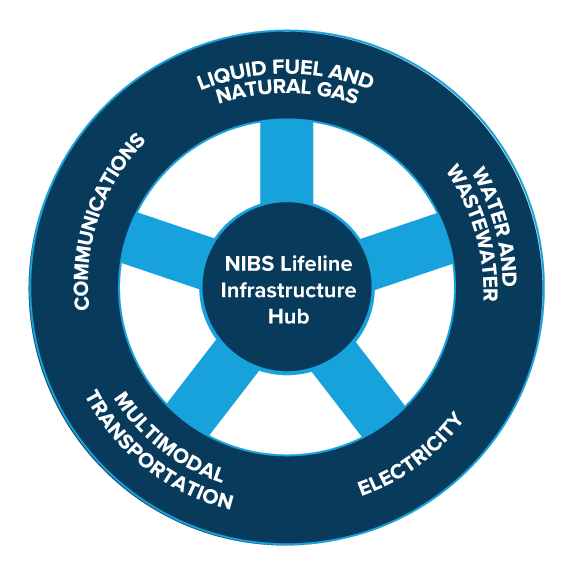 SERVE
in a coordinating role to forge and engage public-private partnerships across lifeline sectors for natural hazards, including hurricanes, earthquakes, tsunamis, floods, wildfires and future extreme weather events

UNDERSTAND
the fundamentals of lifeline infrastructure systems, plus identify gaps and cost-effective ways to mend gaps in lifeline resilience

PRIORITIZE
investments and improvements, in the technical and policy realms, that are most needed for lifeline infrastructure in all communities to improve disaster resilience and modernization
Establish key partnerships among federal, state and local governments, not-for-profit entities, industry and stakeholders
Create new avenues for regular and sustained communication among key partners
Host webinars with facilitated panel members and other special events
Offer Congressional and other leadership briefings to disseminate knowledge
Conduct surveys and gather evidence on lifeline deficiencies, needs and priorities
Develop guidelines (e.g., design and performance) on lifeline infrastructure systems to address federal programs, business continuity and societal needs
Lead post-disaster investigations and develop recommendations on corrective actions
Explore gaps in state-of-practice methods, improve implementation for state-of-the-art techniques, perform applied research, advance technologies and more
Support international lifelines workshops (e.g., U.S.-Japan engineering workshops)
NIBS Lifeline Infrastructure Hub Contacts: