NIBS Quarterly Connection
In spring 2020, we launched the NIBS Quarterly Connection Newsletter as a new publication exclusively for members of the National Institute of Building Sciences. In these pages, you'll find highlights of NIBS activities, projects and the contributions of our dedicated council members. You also will find news stories that quote NIBS research to advance building sciences and help communities that need assistance. We hope you'll stay connected on the projects on our radar and the issues that continue to challenge the nation's built environment.

July 2022 Highlights
BIM Events take Built Environment Center Stage
Infrastructure 2022: Here's a Look Ahead
Building Innovation 2022 Early Bird Registration
DOWNLOAD ISSUE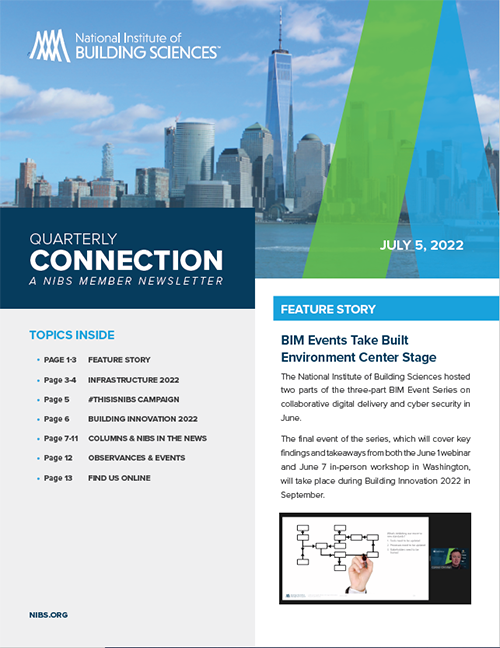 Subscribe to the NIBS Quarterly Connection Newsletter below to receive the publication straight to your email.
Christine Cube
Manager, Social Media & Public Relations
(202) 289-7800
ccube@nibs.org
Sarah Swango
Senior Director of Membership & Development
(202) 289-7800
sswango@nibs.org