Standards
The publications and resources are produced in accordance with NIBS' mission to serve the public interest by promoting a more balanced regulatory environment for the building community, by facilitating the introduction of new and innovative technology, and disseminating nationally recognized technical information. The recommendations found in many of these documents are often arrived at through a member consensus of broad-based building interests.

The National BIM Standard-United States™
The National BIM Standard-United States™ (NBIMS-US™) provides consensus-based standards through referencing existing standards, documenting information exchanges and delivering best business practices for the entire built environment. With open BIM standards, we can build detailed models and deliver accurate products that can be used during commissioning and operation to ensure facility functionality throughout the life of the facility and to deliver high performance, carbon neutral, and net zero energy based facilities.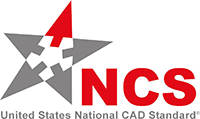 United States National CAD Standard® (NCS) V6
The NCS is a consensus standard incorporating industry publications. It is comprised of interrelated standards, guidelines and tools for uniformly organizing and presenting facility drawing information. It is the only comprehensive standard for facility planning, design, construction and operation drawings. It coordinates the efforts of the entire industry by classifying electronic building design data consistently allowing streamlined communication among owners and design and construction project teams.
The United States National CAD Standard® (NCS) V6 consists of The American Institute of Architect's CAD Layer Guidelines, Construction Specifications Institute's Uniform Drawing System (Modules 1-8), and National Institute of Building Sciences' BIM Implementation & Plotting Guidelines.
There are several licensing options and discounts available for NIBS members, government employees, and students.
The National BIM Guide for Owners
This guide provides building owners with an approach, from their own profession's standpoint, to create and fulfill building information modeling (BIM) requirements for a typical project. It addresses three broad areas the owner should understand in order to work effectively with the Project BIM Team: process; infrastructure and standards; and execution. The guide provides building owners with a documented process and procedure for their design teams to follow to produce a standard set of BIM documents during the design and construction of the facility, and for maintenance and operations of the facility upon handoff. It is geared to a generic facility with uniform requirements for use by a variety of government, institutional and commercial building owners. It references a range of documents and practices, including those contained within the National BIM Standard-United States®. [January 2017 / 36 pages]