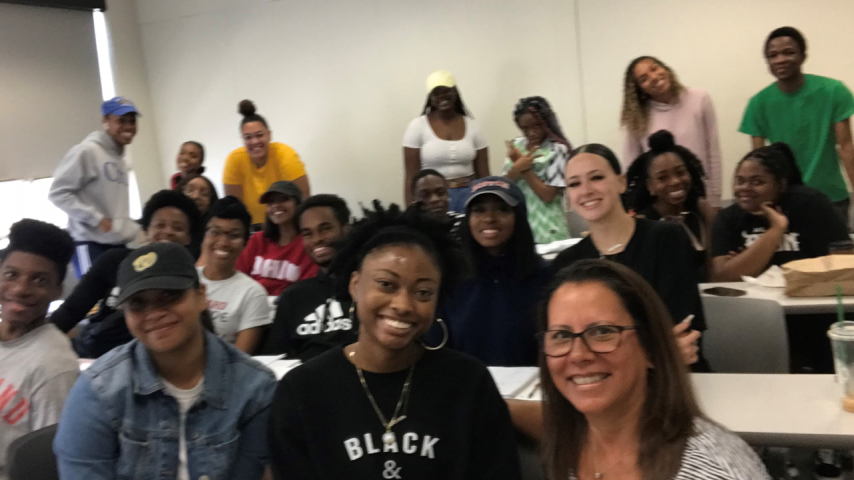 Celebrating Women's History Month: Joy Ortiz, with Marshall Group Architects
When New York was recovering from 9/11, the rebuild effort was monumental.
Small and large companies across the built environment turned up to help. U.S. Customs reached out to one of its firms – Reston, Virginia-based Marshall Group Architects – to do some renovation work in the Big Apple.
Then U.S. Customs requested more help, and the Marshall family hopped on a train.
Marshall Group Architects was started in 1982 by Mortimer M. Marshall, who retired from the federal government after 32 years' service. Marshall also was the first member of the National Institute of Building Sciences.
"We had no clue what we were getting into," recalls Joy Ortiz, President of Marshall Group Architects. "That project turned into three large projects – three different buildings. One was in Newark, New Jersey and two were in New York. U.S. Customs trusted us, and we got the work done."
The budget: $60 million. The New York Recovery Project was the most important in the small firm's history.
Betty and Mort Marshall passed away in recent years, and Ortiz took over the family business. Ortiz recently celebrated her parents' wedding anniversary on February 9 and father's birthday on February 10.
An annual scholarship – the Betty and Mort Marshall Memorial Scholarship – was established to promote diversity in the building sciences. It was made possible because of a generous endowment from Betty and Mort, a sponsorship from the National Institute of Building Sciences, and contributions from friends, family and colleagues.
"But, Are You a Registered Architect?"
Ortiz wasn't always sold on a career in the building industry. She was motivated enough to leave high school a year early, taking night classes to finish things out.
But she didn't have a direction. She tried attending school at Radford University and admits it wasn't for her.
So, she decided to "try the architecture thing" at Howard University in January 1982. There, she met her future husband. She also had a cousin attending the Howard School of Architecture.
"I ended up liking it," Ortiz said. "It wasn't a path that I knew that I wanted to take."
Things fell into place. Ortiz and her husband began working for her father after graduation in 1986. Her husband still is a principal in the firm, but he's since spun off a construction company. They collaborate on a lot of projects.
Being a female in this space never felt like a deterrent, Ortiz said. But it's taken a while for some to get used to the idea.
Over the years, Ortiz would attend business events with her family. Folks in the room would assume Ortiz was her husband's +1.
"I'm an architect," Ortiz would say.
"But are you registered architect?" she occasionally would be asked.
Her response: "Is there any other kind? Yep, I took the same test you did."
Serving Clients
Ortiz says her favorite part of a project is the upfront portion. It's meeting with client and helping to solve problems they didn't know existed.
"I love figuring out the approach for the concept of the design – coming up with different ideas, discussing the problems and putting together solutions," she said.
She's never loved the nuts and bolts – the component parts – or the physical construction. That's her Vice President or husband's strength.
Finding new projects to work on is getting more challenging.
"You have to be fluid in your approach to looking for and executing projects," Ortiz said. "As a small, minority / woman-owned business, we're competing with large companies that go after the same types of projects. You have to find avenues to find business and ping on your network."
It's been a great run. And Ortiz says she's nowhere near retirement.
The Next Generation
When not working on projects, Ortiz enjoys spending time with and mentoring the next generation of architects. She shares her journey and love of the design and construction with future design professionals.
"Recently, I spent some time at my alma mater, HU, discussing my career path and being a minority woman in architecture," she said. "It was great to connect with so many other women in pursuit of a career in architecture."
Today, her children are involved in the family business. Her son works on the construction side, and a daughter is working with the electrical union. She has another daughter in the political arena, and she's a big help at the Marshall Group office.