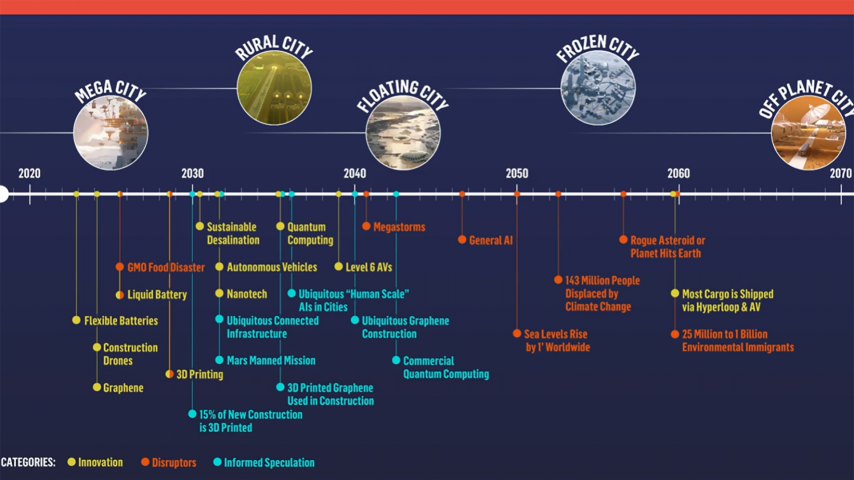 Building Innovation Day 3: We Need Your Voice
Over the last few days, hundreds of BI2021 virtual attendees learned about everything from building resilience, safety and technology to building information modeling and climate injustice.
The third day of Building Innovation opened with remarks from Anne Ellis, Executive Director of the Charles Pankow Foundation and incoming Chair of the National Institute of Building Sciences, who spoke about this pivotal time for the building industry.
The nation's existing buildings and infrastructure are being challenged in so many ways and by a number of elements, she said.
"We must talk about these issues and challenges," she said, encouraging BI2021 attendees to join the NIBS community as members. "We need your voice. There is no limit to the number of seats we can have at this table. You have the power to help shape the future of our built environment."
Sessions on Day 3 of Building Innovation included Systems Change to Create and Transform Healthy Buildings; Off-Site Construction: Addressing Common Community and Building Industry Challenges; Applying Artificial Intelligence to Buildings with Imperfect Data; Making Businesses and Homes More Resilient with the SBA, IBHS and the Insurance Information Institute; Climate Adaptation, Mitigation, and the Role of Building Codes; Innovations in the Life Cycle of Concrete Structures; and How Career Mapping is Helping Increase the Talent Pipeline for the Built Environment.
In case you missed any part of the conference, recordings of BI2021 sessions are available to attendees for the next 60 days.
Reimagining Infrastructure: A Future World Vision
Opening the third and final day of Building Innovation was Thomas W. Smith, III, Executive Director, American Society of Civil Engineers, with his keynote about A Future World Vision – Safe, Resilient and Sustainable Infrastructure.
Faced with challenges including aging infrastructure, demographic shifts and climate change, as well as opportunities like alternative energy, smart cities, and high-tech construction, the built environment is rapidly changing.
Smith discussed engineering challenges and opportunities for the natural and built environment, and ASCE's new approach to a Future World Vision for safe, sustainable, and resilient infrastructure.
Reacting to disaster is costly, he said, citing the global pandemic, recent earthquake in Haiti, and costly hurricanes like Katrina, Sandy, Harvey and Irma. Quoting the Natural Hazard Mitigation Saves report, Smith said mitigation measures save up to $13 per $1 invested.
"Our infrastructure plays a critical role," he said. "As engineers, we are problem solvers. We have some global challenges ahead."
ASCE's solution – the Future World Vision – requires action at many levels. This immersive experience creates virtual future communities that explore multi-dimensional city and neighborhood systems to prepare engineers for future challenges, consider the human impact, and learn how engineers can build a better place to live.  
The idea: To ask questions about the future, so engineers aren't surprised when events take place.
During the ASCE 2021 Convention October 6-8, Smith said the organization will launch the robust mega city with a "fair amount of detail."
Resiliency is About Embracing Change
It is estimated that we are building one New York City a month globally, said Monika Serrano, Resiliency Project Manager with Turner Construction Company, during the presentation How To Build Without the Guilt.
In this session, Serrano and Julia Gisewite, Chief Sustainability Officer of Turner Construction, discussed the journey of the company's sustainability and resiliency program, from the inception of LEED to more recent carbon reduction goals and efforts to increase the resiliency of operations and the buildings it builds.
So many things have changed when it comes to building, including builders' roles to be able to influence and advocate, the ability to use data to prioritize and make decisions, and the scope of projects. Before, the scope used to be about LEED, waste, and office recycling. Today, it's health, wellness, equity, net zero, circularity and resiliency.
"[Guilt] means that you care," Gisewite said. "Focus on adaptation. We have to build resilience into our core competencies."
Modifying behavior and processing and move forward are big steps toward building without the guilt.
Turner Construction's resiliency services include resiliency design optimizations, energy modeling, resilient strategies cost benefit analyses, and future climate risk analyses.
Collaborating to Support Better Building
Stakeholders across the building delivery process have their own definitions of a successful project. Achieving those goals often requires early engagement of key team members and coordination and collaboration across the team.
In Delivering Value: How a Collaborative and Strategic Approach to Off-Site Construction Supports Better Building, a panel that included a designer, developer, manufacturer and contractor shared their perspectives on how off-site construction projects bring value.
The panel included Laurie Robert, a LEED AP Modular Construction Professional; John Buongiorno, Director of the Modular Division with Axis Construction; designer Jason Buchheit; and Aundre Oldacre, Founding Partner of AoRa Development.
Building off-site comes with several benefits, including cost certainty, safety, and reducing site impact.
"Off-site is sustainable," Oldacre said. "You see a much higher quality product."
According to a 2018 survey by NIBS, the top three barriers to modular construction were late design changes, design and construction culture, and projects were not designed for off-site.
What's driving the high level of interest in off-site construction today? There is an aging global construction workforce with a lack of new entrants, resulting in a significant labor shortage; there's a high demand for multi-family and affordable residential units in major urban centers; and there's a need to build faster, more efficiently and sustainably.
Growing Positive Impact of Our Buildings
Building Innovation 2021 closed with a keynote by Renée Cheng, Dean of the College of Built Environments with the University of Washington, called Who Builds, Who Benefits? Embodied Human Cost in AEC Supply Chains.
In her talk, Cheng asked attendees to consider the human cost of construction.
While there are no concrete ways yet to track this, there are questions we can start asking.
Much like society cares about climate solutions, tracking embodied energy and carbon, Cheng said we need to ask other questions: What do we know about modern slavery in the AEC supply chain? How do we know our material choices don't create a demand that will be filled by forced labor? How can we be informed and ethical consumers?
These questions open up greater transparency.
"This is not something where we can say, 'Oh, that doesn't happen here,' because it does," Cheng said.
She used the example of fair-trade food. Some consumers shop strictly for this label to ensure farmers are benefitting from the sale of certain products. The building industry can do something similar by compiling a checklist looking at potential risks.
"If we try to be equitable in all the areas that we see, why would we not go a step further to be equitable in all the things we cannot see?" she asked.
The benefits to this include raising awareness, reducing risk, and understanding not only the environment footprint, but the human one as well.