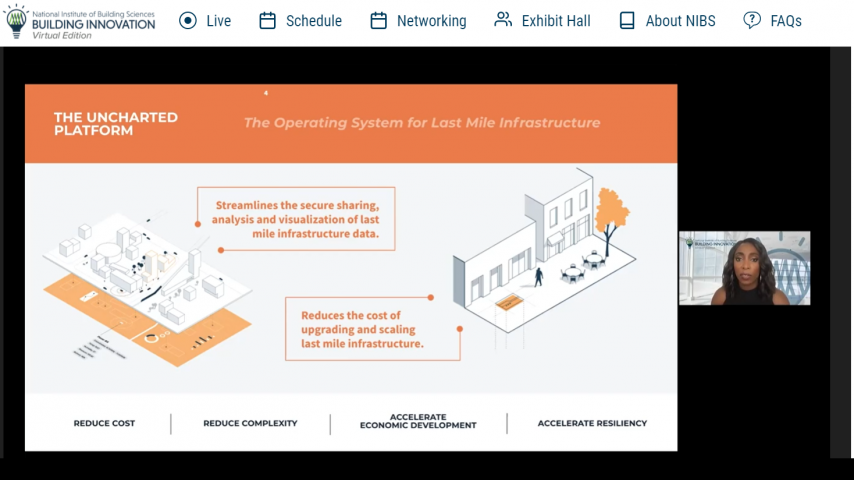 Building Innovation Day 1: Design, Solutions, Innovation and Resilience
Technology is a means to an end, not the end itself, said Jessica O. Matthews, CEO of Uncharted.
Matthews, a dual-citizen of the U.S. and Nigeria, kicked off the first day of Building Innovation 2021, sharing personal experiences that led to her success as an entrepreneur and inventor. Years ago, Matthews created the Soccket, an energy-harnessing soccer ball.
In her keynote, Innovating During Times of Uncertainty: Adapting Your Business for the New Normal, Matthews talked about how Uncharted pivoted in the business world by doubling down on its mission to redefine power access and build smarter, safer cities. The company builds operating systems for last-mile infrastructure.
"I believe universal access to smart, sustainable infrastructure is a right," Matthews said, discussing three concepts – intersectionality, intention, and impact – that helped her course-correct throughout her professional life.
Intersectionality is the first step toward harnessing innovation. It means to know your true north, the thing you're pushing for.
Intention is aligning your activities to your intended goal, and impact forces you to reflect on what you've accomplished.
"Every single time you win, you cannot think you're done," she said.
Inviting People from Around the World to Join Us
Carl Hedde, Head of Insurance Practice at One Concern and Chair of the National Institute of Building Sciences, opened the meeting to attendees.
"For the second year, we have decided to take our annual meeting virtual," Hedde said. "There are many reasons for this. The safety and health of our attendees and members come first. But secondly, we learned last year that opening up this meeting to a broader audience translated into a greater built environment conversation."
Day 1 on the BI2021 included these sessions: Designing Diversity, Equity, and Inclusion Policies on Purpose for Greater Impact; The Story of BIM and the New World of Digital Construction; An Overview of 4D BIM Construction Sequencing: The Reality and the Potential; Building Codes Save: FEMA's Nationwide Building Code Losses Avoided Study Panel; The Rapidly Accelerating Housing Shortage and Modular Building Solution; Simulation Platform for Energy-Efficient Design (SPEED); and Resilience, Functional Recovery, Sustainability – What Are They & What Do They Mean to the Structural Engineering Profession?
Resiliency Challenges for Facilities and Infrastructure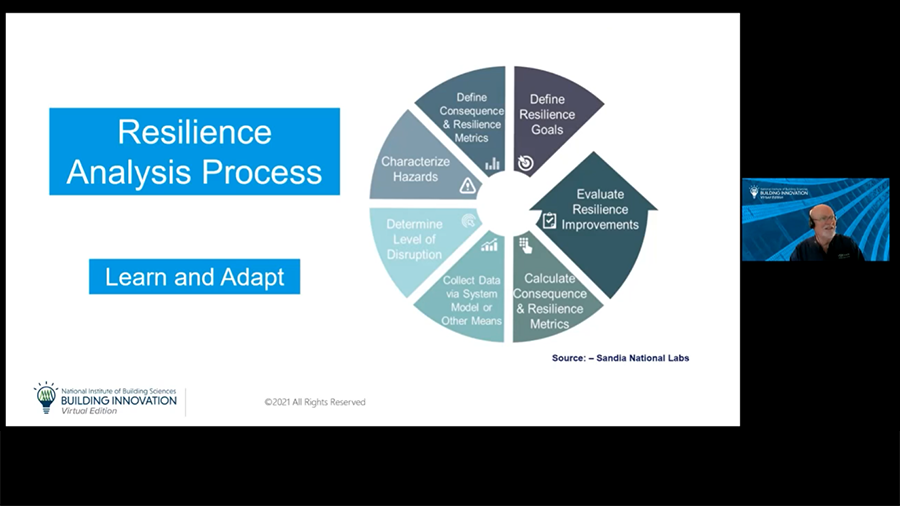 Robert Knoedler, Immediate-Past President of the Energy Management Association, gave an informative talk about Resiliency Challenges for Our Facilities and Critical Infrastructure.
The last decade has demonstrated that designers, managers, utilities and government agencies have been challenged by a variety of vulnerabilities facing facilities and infrastructure systems, including natural disasters, intentional attacks, material/component failures, biological/pandemic, and human error. In 2017, the nation faced 16 energy disruption events that each cost more than $1 billion.
Interdependencies between systems and infrastructure often lead to the potential for cascading failures, creating catastrophic consequences. When assessing various threats, risk assessors must address a balance, evaluating reliability, resiliency, security, sustainability and energy efficiency.
"There needs to be a balance to assess the risk as you go forward," Knoedler said. "Define your goals, characterize your hazards, determine the disruptions, and calculate the consequences. And, evaluate what the improvements were."
One alternate system – combined heat and power systems – are growing in popularity with hospitals, critical care centers, and universities. These systems are known to be resilient and reliable. Another system – solar PV – is the most popular microgrid because it is self-sufficient.
Knoedler said the beauty of a microgrid is that you can "island" from a central grid during an outage.
"It's become a favorite of mission critical or institutional facilities," he said. "It's also become prevalent in some of the big, commercial industrial clients."
Measuring resiliency is done with four components: preparedness, mitigation measures, response capabilities, and recovery mechanisms.
Cyberattacks are Happening Faster Than We Can Handle Them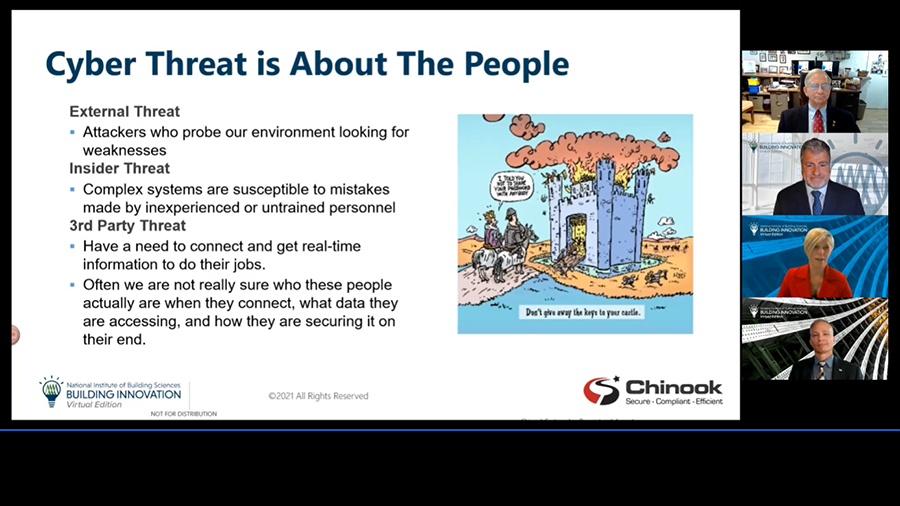 In the session, Cybercrime Vulnerability in Buildings and Critical Infrastructure, a four-person panel discussed how a cyberattack on a system can threaten the life, safety, or property of citizens. Governments have limited protections and response capabilities and need the private sector.
"The most important thing is raising awareness and knowing what we can do on a day-to-day business to mitigate risk," said Lucian Niemeyer, CEO of Building Cyber Security. "We need certified cyber safety specialists."
Niemeyer was joined by Dana "Deke" Smith, Lead, DKS Information Consulting, LLC/Chinook Systems Inc./Building Cyber Security/Office of the Principal Cyber Advisor to SECDEF; Wanda Lenkewich, President, Chinook Systems, Inc.; and Daryl Haegley, GISCP, OCP, who has been assigned to the Office of the Principal Cyber Advisor to the Secretary of Defense as Director, Mission Assurance and Deterrence in Cyberspace, where he advises on cyberspace activities, cyber mission forces, and offensive and defensive cyber operations and missions.
"What we typically find is that owners with multiple facilities typically have standardized contracts over multiple facilities," Lenkewich said. This brings the potential for cyberattacks from a building level to a portfolio level, moving beyond building equipment to entire operating systems.
Control systems typically are not built to operate in a cyber-contest environment, Haegley said. Furthermore, aging infrastructure cannot always be cyber-secured.
A best practice is to shift to a zero-trust model with compartmentalized access, continuous monitoring and adjustment, and security measures applied throughout the overall system.
Three Pillars of Disaster Resilience
Daniel Kaniewski, Managing Director with Marsh McLennan and former Deputy Administrator for Resilience with the Federal Emergency Management Agency, closed the first day of Building Innovation with his keynote on Disaster Resilience: Priorities, Programs, and Incentives.
Kaniewski highlighted innovative programs that support disaster resilience and proposed incentives to further drive resilience investments.
His three pillars of disaster resilience: preparedness, mitigation, and insurance. This is also is how FEMA organizes itself, Kaniewski said.
"By failing to prepare, you are preparing to fail," he said. "Governments have a need to prepare because they need contingencies. Businesses have the same issue, they have to be ready [in the event of a disaster]."
Kaniewski pointed to the National Institute of Building Sciences' Natural Hazard Mitigation Saves report, covering some of the major points about mitigation to save lives and reduce human suffering. For example, strong building codes are essential, leading to $11 in savings for every dollar invested.
He spoke about the protection gap – the difference between the insured and actual economic losses. Natural catastrophe loss frequency is on the rise … along with the value of related uninsured losses, he said.
Building Innovation 2021 continues today, with Day 2 starting at 11am ET. Opening the meeting will be Edward Mazria, FAIA, Founder and CEO, Architecture 2030. Mazria will cover three steps to a zero-carbon built environment.
Join BI2021 today by registering at buildinginnovation.org.