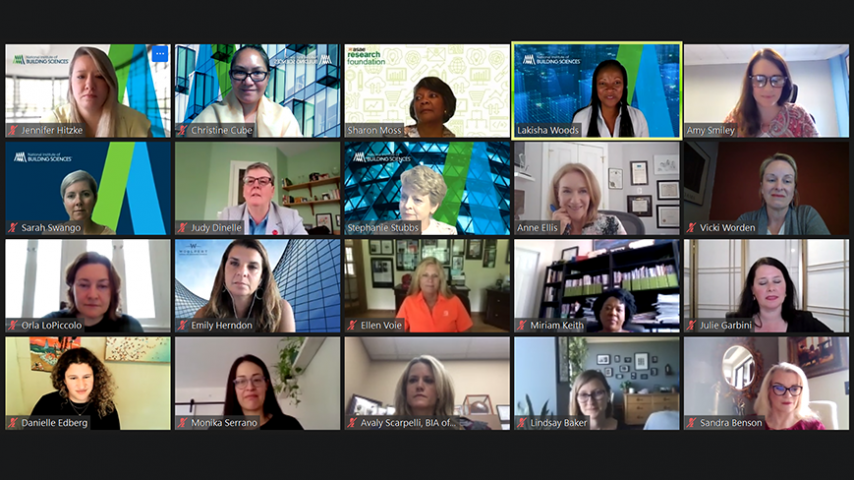 Women Executives in Building: Your Elevator Pitch Needs to Strike a Balance
It turns out there's a lot riding on a person's elevator pitch.
It's part marketing, sales pitch, and personal branding. You also can't go into too much detail, and you've only got about 30 seconds to make an impression.
"Always tailor your speech to the group," said Miriam Keith, President of Kayleb Consulting LLC. "Your elevator pitch often is referred to as the BLUF: bottom line up front. Then give details."
These are just some of the takeaways from the May 25 virtual leadership meeting of the Women Executives in Building. The meeting was sponsored by the ASAE Research Foundation and 84 Lumber Co.
"If you keep it short, then you can engage the person and you're not just downloading yourself to [them]," said Julie Garbini, Executive Director with the RMC Research & Education Foundation. "What do you want them to remember when they walk away from you?"
Having an elevator pitch allows you to be more proactive, rather than reactive.
Danielle Edberg, Senior Product Marketing Manager of Partnerships (Industrial Lead) with Unity Technologies, mentioned that it's important to tailor a pitch to your audience, especially if they're unfamiliar with your industry.
"Whether you're selling yourself or what you do, it's important to personally connect with it," she said.
Branding Strategy
Sometimes, it just takes a logo on a shirt or the virtual backdrop on Zoom to start a conversation. Anytime you have that logo on, you're representing that brand.
84 Lumber Co. Building Ambassador Judy Dinelle said she's ready for the elevator pitch that suits the environment and audience. Maybe the person you're addressing is a client or potential client.
"There's me, 84 Lumber, the products we sell, the building industry, women in building – these are all different conversations," Dinelle said.
Women in leadership sometimes suffer from imposter syndrome, said Vicki Worden, President and CEO with Green Building Initiative.
"It's hard when you take on a new CEO role to find your lane and how you can describe your expertise and why you're the right person at the right time," Worden said.
Anne Ellis, Executive Director with the Charles Pankow Foundation, agreed.
"A lot of times as women, we come in thinking either we're not good enough or we need to justify something about our background," Ellis said. "You've got so much in your toolbox that some of these other people don't have."
Other elevator pitching tips from these executives:
Speak with confidence and know your value.
Keep your message short and concise.
There's a fine line between sharing your professional background and boasting too much.
It's OK to keep your pitch to the company or its mission.
It's also OK to humanize yourself in the right setting.
Key words or phrases are good. Some considerations include value proposition, change leadership, trend watcher, and sustainability.
The next Women Executives in Building virtual leadership meeting takes place August 31. For more information, visit Women Executives in Building | National Institute of Building Sciences (nibs.org).