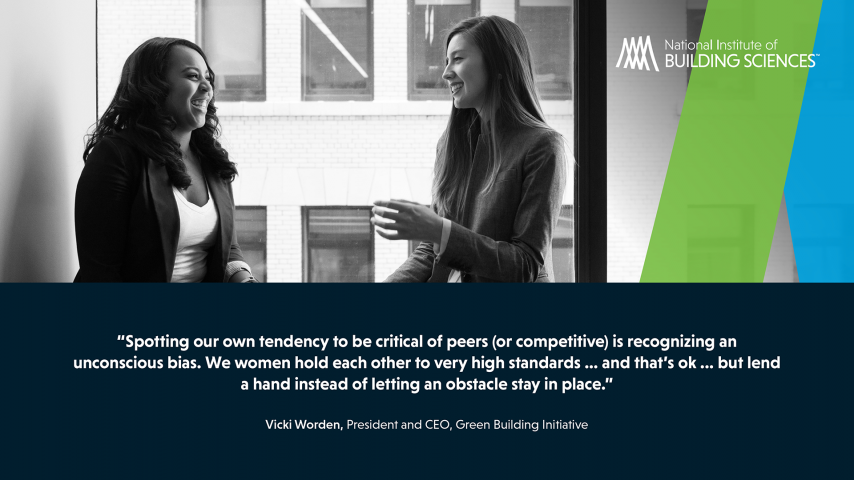 Women Executives in Building: Encouraging Authenticity in Your Staff
Today's virtual world has challenged many business professionals, when it comes to deepening relationships and being authentic.
What's OK to share on those Zoom calls?
Is it appropriate to discuss your favorite Peloton class? What about your most recent Netflix binge? These would've been fair game in person around the office watercooler.
More than 20 leaders joined the December 7 meeting of the Women Executives in Building to discuss authenticity and what it means to honor your authentic self.
NIBS CEO Lakisha A. Woods, CAE, said prior to COVID, it may have been easier to keep your personal life separate from work. But now, with so many workers online, folks are jammed in their homes with kids and pets mingling during office hours.
"You're beginning to see another layer to people," Woods said. "I'm seeing more women publicly leading with CEO and mom. They're putting it out there."
"We Work Hard, We Play Hard"
When Andrea Rutledge, CAE, started with the Construction Management Association of America, it was at a time when she'd committed to helping to produce a documentary about a 50-mile ultra-marathon in Southern Illinois.
Rutledge needed to go to the race and shoot some footage over the weekend. It would've been her first "disappearing act" within her first 30 days with her new organization.
She spoke with the CMAA chair about it.
"And the chair said, 'OK, we'll see you on Monday,'" said Rutledge, President and CEO of CMAA. "It was a sort of crystallizing moment for me. He set the tone. We work hard, we play hard, and it's all a part of who we are."
Choosing Balance First
Many times, we try to take on too much. Saying no can be among the hardest decisions to make, especially when a good opportunity presents itself.
"It's important to find that healthy balance in your life," Woods says.
Vicki Worden, President and CEO of the Green Building Initiative, said this is a very important conversation, when it comes to recruitment and mentoring.
Prospective candidates need to know that a company's culture is family friendly, creative and supportive.
"We encourage people to take the time they need," Worden said. "Mental health days are really important."
Honor Your Authentic Self
The Women Executives in Building shared many personal stories that ultimately lead to one thing: acceptance of personal time, space, and lives.
Other items that came out of the meeting:
Offices are getting more relaxed and casual with dress codes. But you should be careful with the words you choose when advising people on what they can and can't wear. Even DC is getting more casual.
Allow for flexibility with team members. Do they have to use a company virtual backdrop? Must they turn on their computer cameras? We need to connect, share information, and ideas. But allow people on your team to choose and strive for balance.
Show your peers acceptance for who they are.
"Spotting our own tendency to be critical of peers (or competitive) is recognizing an unconscious bias," Worden said. "I do a lot of coaching on this as it's hard to see in yourself. We women hold each other to very high standards ... and that's ok ... but lend a hand instead of letting an obstacle stay in place."