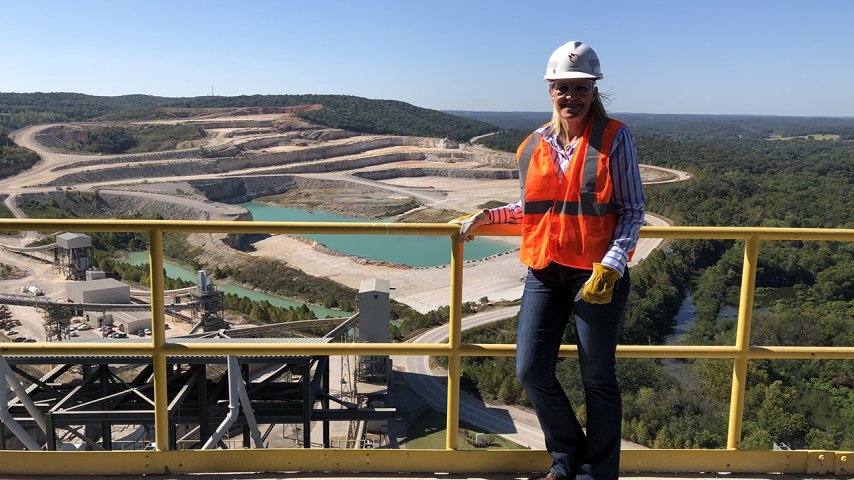 U.S. Cement CEO on Working in a Man's World: "If You Are Driven, You Can Go Anywhere."
Jamie Gentoso was young when she got her first taste of construction.
It was her architecture class at East Lansing High School in Michigan. One of the class projects involved designing a home for a family on a specific plot of land, using a set budget. She loved solving a complex problem with various constraints and thought architecture would be a great career path. However, her school counselor spotted her aptitude for math and science and suggested Gentoso might consider a career in engineering.
Even in college, as she was pursuing a major civil engineering at the University of Michigan, Gentoso wasn't entirely sold on being an engineer. She feared having to sit behind a desk day after day with little human interaction.
But by her sophomore year, she'd landed an internship with construction firm, The Christman Company. She had a great boss, and the company employed Gentoso through the rest of her college career working part time through the school year and full time in the summers. Gentoso earned the title project manager, and she enjoyed her work. The job site, people, materials, contractors were ever changing, and there were new problems to solve every day.
"I wanted to dive into everything," she said. "I didn't have to sit behind a desk. I was out on the site, watching the building rise out of the ground working with the architect, engineer, building owner and different tradesman. Every day was different, challenging in its own way. I had a great boss who gave me a lot of opportunity, allowing me to learn every aspect of construction and the job."
Gentoso says her career mantra could be summed up in these words: "Ask for more!"
She learned that there will always be a first time and it won't be easy, but you learn from every single experience and situation. She loved construction management but knew she owed it to herself to see what was out there after graduation.
A Driving Force in the Built Environment
After Christman, Gentoso took a role with Holcim in its New College Grad Program, essentially a training role that gave graduates exposure to various aspects of the business. However, the company had an open spot for a technical service engineer and after several months, Gentoso worked up the nerve to say, "Don't hire anyone. I want that role."
She worked hard, and she earned it.
Gentoso was the lone female on a team with six male cement sales reps. Her role was to support them and customers throughout the North Central region, where the company sold nearly two million tons of cement, fly ash and slag. Admittedly, it took the team some time to accept her. If the job required her to be on site at 3am and work until midnight, Gentoso was there. She quickly earned their trust by continuously jumping right in to each opportunity or problem.
She wasn't afraid to say she didn't have all the answers, but she knew where to find them. So when a position opened with St. Lawrence Cement on the east coast – a company that was part of the Holcim enterprise – Gentoso's boss went to bat for her.
"I had to prove myself," she said. "They had just opened a grinding facility for slag cement in Camden, NJ and needed someone to work with architects and engineers to get the new product specified."
This new opportunity with St. Lawrence introduced Gentoso to the world of sustainable construction. Cement is a major contributor to the world's issue with CO2, contributing approximately 7-8 percent. The reason: Concrete is the second most consumed product next to water and nearly every ton of cement produced, produces a ton of CO2. In the U.S., there are 100 million tons of cement consumed every year. Cement is the essential component in concrete, giving it its strength and durability allowing it to last for centuries.
The Building Block of Society
St. Lawrence was where Gentoso's love for sustainability took hold.
"You have to have concrete – you can't even imagine a world without it," she said. "We wouldn't have clean drinking water, bridges, tunnels, airport, your home, the roads you drive on. Infrastructure is fundamental to the growth of society, and it's all in concrete. Concrete is literally the building block of society."
After St. Lawrence, Gentoso's career in the built environment grew. She spent some time with Master Builders (BASF), diving into her first experience in sales. She then went on to spend 11 years with Sika, starting in key accounts, moving to director of marketing and product management. Eventually, she became responsible for the whole Business Unit and earned the title senior vice president of target market concrete. Gentoso was running the business and again, credits a great boss who gave her opportunity to grow and learn.
By September 2017, Gentoso made another career leap – becoming the vice president of sales and marketing of Construction Specialties. But her stint there was short-lived – an opportunity opened up with LafargeHolcim.
A Higher Calling
Today, Gentoso manages 13 cement plants as the CEO of U.S. Cement with LafargeHolcim. U.S. Cement produces $2.5 billion in revenue, and Gentoso oversees 3,000 employees.
She credits the support of her previous bosses for her career trajectory. She also has an equally supportive husband, who's a CEO for a materials company in New Jersey.
Ultimately, Gentoso learned that business is just business.
"If you understand the fundamentals, you can do anything," she said. "Coming into a role like this is tough. But it's normal. We struggle. Everyone's got struggles. It's just about pushing yourself, having confidence, when you don't always feel it."
For women in construction, Gentoso says it's important to release self-doubt.
"It's having the courage and knowing you can be as good as someone else," she said. "I think women struggle with that."
Gentoso recognizes this. As a woman, she's had to be cognizant of her place at work. Early in her career, she spent a lot of time "being one of the boys." She chose to fit in, wearing jeans and button downs. Now, blending in isn't a concern, and skirts are a part of her daily wardrobe. "I'm not afraid to be different," she says.
Today, Gentoso wants a team of competitors who are driven and want to make a difference. She places her value on people, surrounding herself with the best possible team, regardless of gender. And, she's got advice for young women with undeclared majors in college: Come to construction. If you want to make a real impact on society, you love a challenge and you're a natural problem-solver, this is a great industry for you.
Says Gentoso: "Society faces a real challenge – we continue to grow, we continue to build, but we cannot continue to impact the environment in the same way. It's not sustainable. (Pun intended!) We need to think and act differently and come up with new solutions. The built environment is not just man's concern, it's a human concern. We must call on more women to enter this great industry providing greater diversity in thought and solutions!"