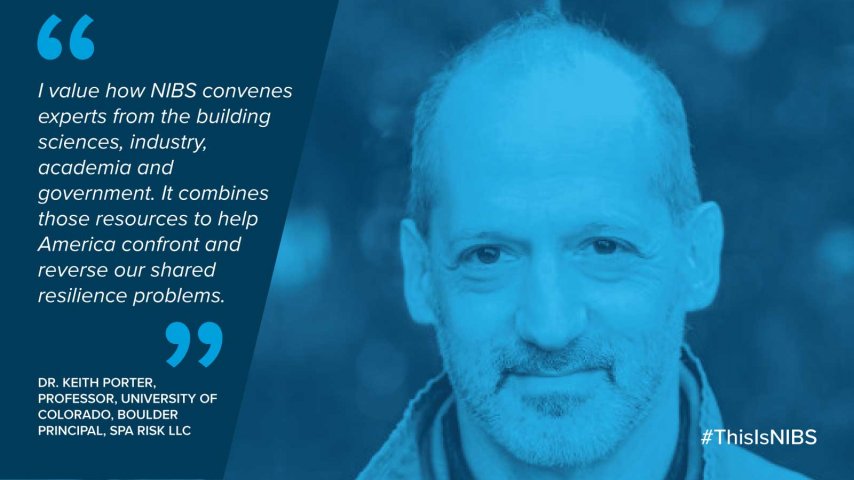 #ThisIsNIBS: Dr. Keith Porter, Professor, University of Colorado-Boulder and Principal, SPA Risk LLC
The National Institute of Building Sciences recently launched a comprehensive membership campaign aimed at raising awareness, recruiting new members, and engaging members who have long supported the mission and success of NIBS.
#ThisIsNIBS features testimonial videos by NIBS members, sharing their favorite part of being a member of our community. Videos are being shared across the @bldgsciences handle on Facebook, LinkedIn and Twitter.
"Our members represent all segments of the building industry and are key stakeholders who move us forward," says Lakisha A. Woods, CAE, President and CEO of NIBS. "These stories highlight the mission of our organization, making the built environment a safer and more sustainable place to live, work, learn and play."
This week, Dr. Keith Porter, Professor with the University of Colorado-Boulder and Principal of SPA Risk LLC, shared that he values how NIBS convenes experts from building sciences, industry, academia, and government.
"[NIBS] combines those resources to help America confront and reverse our shared resilience problems," Porter said.
NIBS also recently launched a brand new nibs.org website. Part of the site launch includes the Engage platform, which allows members to connect on new and ongoing projects. Engage also allows NIBS council members to share documents, meeting minutes, and other important material with one another in a safe location.
To learn more about becoming a member of our community, visit nibs.org/contributors.