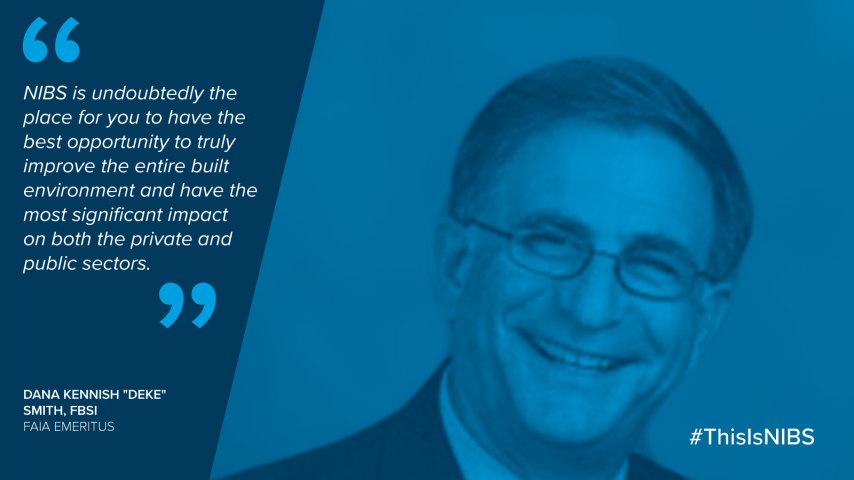 #ThisIsNIBS: Dana Kennish "Deke" Smith, FbSI, FAIA Emeritus
Members like Dana Kennish "Deke" Smith, FbSI, FAIA Emeritus, embrace the unique opportunities that the National Institute of Building Sciences was provided in its enabling legislation.
NIBS was established by Congress in the Housing and Community Development Act of 1974, Public Law 93-383. Congress recognized the need for an organization to serve as an interface between government and the private sector – one that serves as a resource to those who plan, design, procure, construct, use, operate, maintain, renovate, and retire physical facilities.
"NIBS is undoubtedly the place for you to have the best opportunity to truly improve the entire built environment and have the most significant impact in both the private and public sectors of the AECOO industry," Smith said. "I genuinely believe you should join NIBS to help make a difference not only for your career but for the AECOO industry as a whole."
NIBS members and partners are critical to our mission and the support of the building industry.
Last April, NIBS launched a membership campaign to raise awareness, recruit new members, and engage those who support our mission and success.
The campaign – #ThisIsNIBS – features testimonial videos by members sharing their favorite part about being in our community.
To learn more about becoming a member of our community of building professionals, visit nibs.org/contributors.