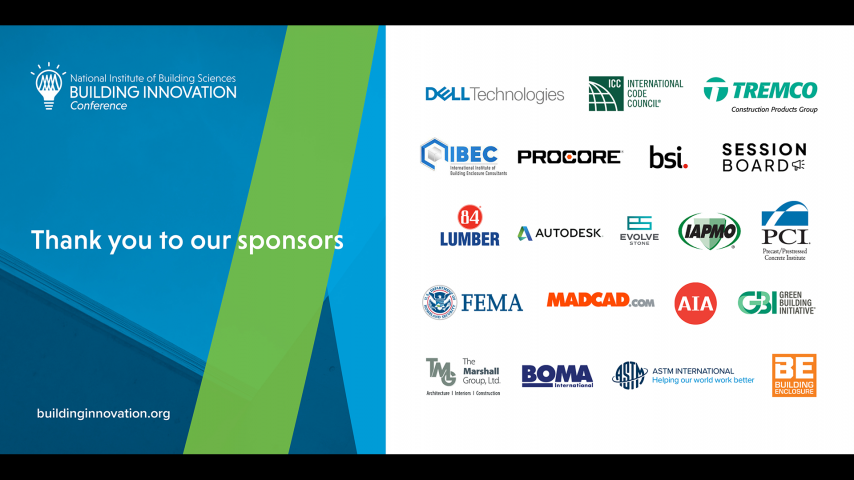 Thank You, Building Innovation 2022 Sponsors!
It takes a lot to produce the kind of conference that draws everyone who impacts the built environment to come together and find solutions.
This year, Building Innovation 2022 returns to an in-person event at the Mayflower Hotel in Washington, DC, and none of it would be possible without the generous support of our sponsors. These include the International Code Council, Dell Technologies, Tremco Construction Products Group, 84 Lumber, BSI, Session Board, Procore Technologies, Evolve Stone, PCI, Federal Emergency Management Agency, MADCAD, and International Association of Plumbing and Mechanical Officials.
NIBS also is grateful for the industry support of the American Institute of Architects, ASTM International, BOMA International, Green Building Initiative, International Institute of Building Enclosure Consultants (IIBEC), and The Marshall Group, Ltd.
Building Enclosure is the BI2022 media partner.
Our Tracks: Resilience, Technology, and Building Performance and Sustainability
BI2022 takes place September 26-28. Schedule highlights include:
Efforts to Decarbonize Building Sector are Scaling – Why and How Your Company Can Respond
BIM Provides the Fuel for Data-Driven Change at the U.S. Department of State
Data & AI in Construction
Design for Resilience and Sustainability: Precast Protects Life and Resiliency and Zero Energy for Educational Facilities Case Study
Resilient & Smart Interiors: Protecting Occupant Wellness and Reducing System Construction Costs
Beyond Drawings: Engaging Owners and Users with Digital Twin & Mock-up Technologies
Landscape of Federal and State Resilience Planning & Policies and the Role of Modern Codes and Standards
Hazard Resilience & Building Codes in Action: Earthquake and Tornado Mitigation & Climate Change Adaptation Pathways
Learn more at buildinginnovation.org.