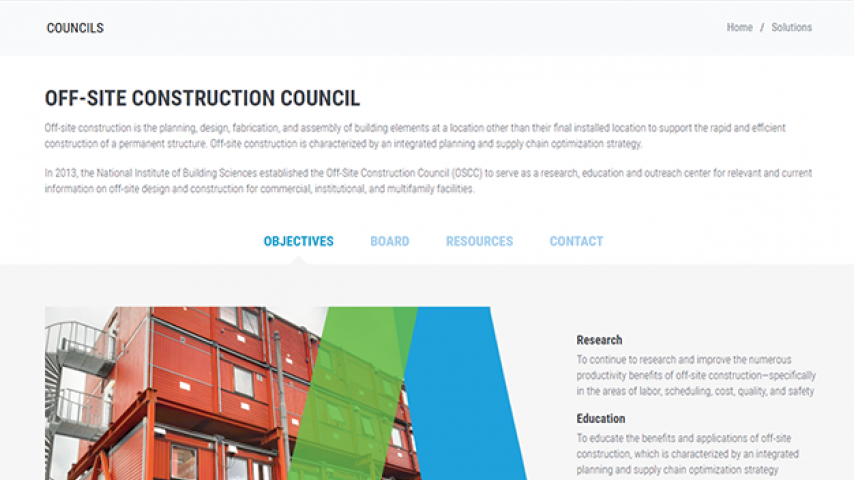 Off-Site Construction Council to Form Subcommittees
Off-site construction is the planning, design, fabrication, and assembly of building elements at a location other than their final installed location to support the rapid and efficient construction of a permanent structure. It often is characterized by an integrated planning and supply chain optimization strategy.
The NIBS Off-Site Construction Council serves as a research, education and outreach center for relevant and current information on off-site design and construction for commercial, institutional, and multifamily facilities. It's looking to form some subcommittees.
They include: 
Administrative. This subcommittee will look to improve outward-facing materials on the OSCC website, best practices and code compliance, and standardization of codes.
Factory capacity/capability. The goal will be to keep our factories working (creating a pipeline), create relationships with the U.S. Department of Housing and Urban Development, Housing Preservation & Development, and other organizations for approved factories. Also, this subcommittee will stay up to date on innovation (advanced robotics, BIM, module storage).
Retrofits/existing buildings. This subcommittee will stay informed on pods to outfit portions of buildings (bathrooms and additions), removing fossil fuels and MEP/HVAC to gain higher levels of sustainability, and superinsulation, high efficiency windows, toilets, lighting, etc. 
Remote inspection. The goal is to know about approved 3rd party inspectors in factories, follow jurisdiction code requirements, and BIM requirements for approved factories.
Financing and affordable housing. The subcommittee will be for lenders to understand draw schedules, module/material ownership and liability in and out of the factory, and how to make modular affordable.
To join one of the OSCC subcommittees, reach out to Jennifer Hitzke at jhitzke@nibs.org. For more information about the OSCC, visit nibs.org/oscc.