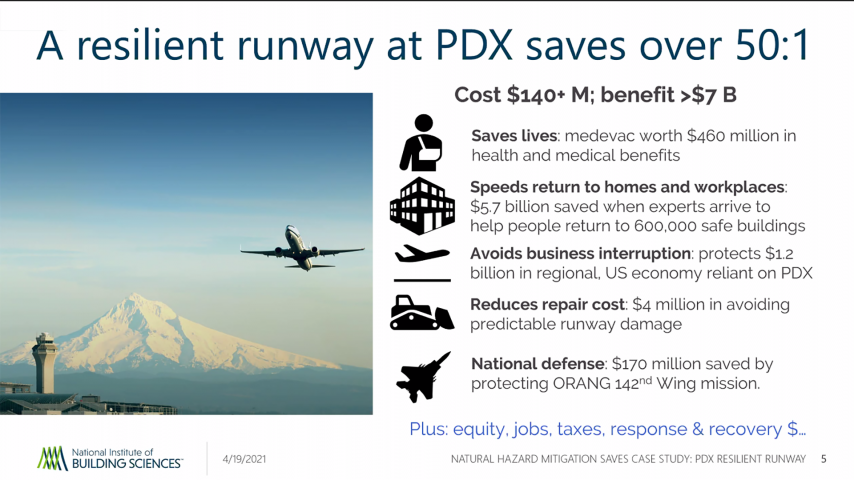 Resilience 2021: For Every $1 Spent on a Resilient Runway at PDX, Oregon Will Save $50.
In light of a White House Administration focused on improving infrastructure, Portland has taken on its own analysis to review the value of mitigation investment.
A National Institute of Building Sciences study has found that a seismically resilient runway to serve Portland International Airport (PDX) ultimately would save $50 for every $1 spent on mitigation. These benefits would broadly be shared by agencies in and around the Portland area. "A resilient runway helps everyone in the region," said Keith Porter, principal of Denver-based SPA Risk LLC and lead investigator for the PDX case study by the NIBS Multi-Hazard Mitigation Council. "It helps those whose buildings might be damaged and may need safety evaluation. It also will provide a more stable economy and connection to the outside world."
Porter spoke during an April 19 webinar to present key findings of the PDX study. Also on the panel were Daniel T. Pippenger, Chief Operating Officer with the Port of Portland, and Jiqiu (JQ) Yuan, Executive Director of the NIBS Multi-Hazard Mitigation Council and Building Seismic Safety Council. Stephen A. Cauffman, Chief of the Resilience Services Branch (A) of the Cybersecurity and Infrastructure Security Agency of the U.S. Department of Homeland Security, served as moderator.
A Matter of When, Not If
Magnitude 8.7-9.3 earthquakes in the Cascadia Subduction Zone (CSZ) are inevitable.
To configure a mitigation benefit-cost ratio for PDX, the NIBS team defined the assets at risk (the airport runway or buildings in the valley), characterize what earthquakes could do to those assets, characterize the probability of damage to the assets, and quantify the life-safety process. The team looked at 100 different simulations of five earthquakes.
Using NIBS' groundbreaking Natural Hazard Mitigation Saves research, a resilient runway at Portland International Airport could come with $460 million in health and medical benefits, among other benefits. The area has nearly three million people, but fewer than 400 vacant ICU and emergency department beds. Medical evacuation through PDX could save up to 1,600 lives.
The study found that building re-occupancy took up the largest portion of the 50:1 ratio, with 40:1. This part of the study estimated number of landslides, bridge damage and repair time – essentially the amount of time it would take for people to drive into the region.
CSZ earthquakes could damage up to 850,000 buildings out of 2.9 million. Of those 850,000, 610,000 could safely be reoccupied. Porter said the Portland MSA has only 180 certified safety evaluators.
"The U.S. has almost 11,000 certified evaluators, but they must be able to get there," he said.
Why Portland Undertook This Study
The cost to remediate PDX's south runway would be $140 million.
Port of Portland's Pippenger said Portland has engaged in a long-term all-hazards study, looking at things like climate change, seismic resilience and other resilient priorities. He said the centerpiece of its holistic and programmatic study is a Cascadian zone event.
"Understanding of the science of the Cascadia Subduction Zone earthquake has been evolving in the last couple of decades and it's become a much prominent issue here in the Pacific Northwest," Pippenger said.
He added that in 2017, he took a trip to the Tohoku region of Japan six years after it suffered a great earthquake and tsunami.
"Seeing the scale of destruction in a community that was isolated, prone to landslides, and on the ocean really had a strong impact to me," Pippenger said. During that trip, he visited Sendai Airport, which had performed some strengthening of its runway with stone column mitigation. While the runway was inundated by the tsunami and it went through the ground motions of the earthquake, airport officials there were able to resume emergency operations within a few days with the help of the U.S. Marine Corps, which helped clear debris. Rudimentary commercial service was resumed within three weeks to support the region's recovery.
When he returned from his trip, Pippenger said it became clear the importance of doing something similar to strengthen and support one of PDX's two primary runways.
"We can't do that without some kind of analysis," he said. "So, this [study] is a good tool for us to elevate the conversation."