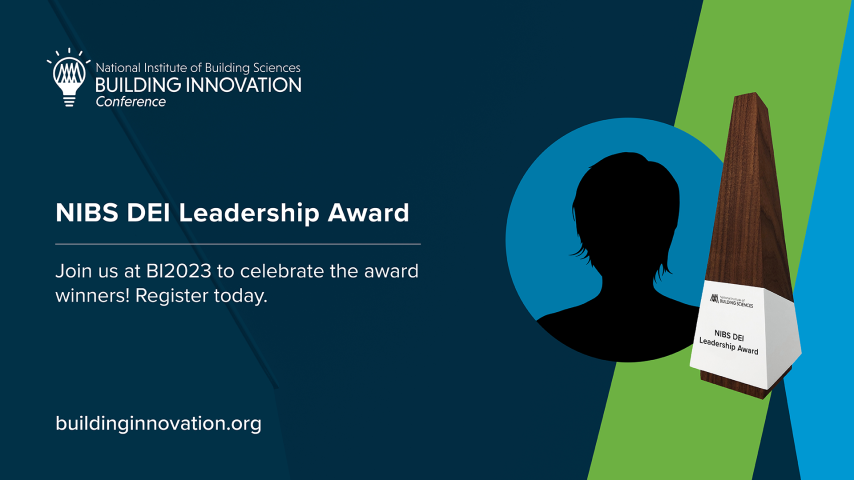 Recognizing the Industry's Champions of Diversity, Equity, and Inclusion
Statistics show that improvement is needed to increase representation across the built environment.
In 2021, the NIBS Diversity, Equity & Inclusion (DEI) Leadership Award was inaugurated into the built environment awards, which are presented during NIBS' Building Innovation conference.
The DEI Leadership Award recognizes corporations or associations that are working toward inclusivity within the building industry, by increasing diversity in leadership roles and engaging in ongoing efforts that yield measurable change. During Building Innovation 2022, the DEI Award was presented to GEI Consultants, Inc., a Chicago-based multi-disciplined engineering and technical services firm.
GEI Consultants was given the honor for moving its organization toward a more diverse and inclusive workplace and making great strides to increase representation across the built environment with its 2021 D + I Report.
Last year, five awards and two scholarships were also presented during BI2022. Awards included NIBS Distinguished Service, Future Leaders, the Mortimer M. Marshall Lifetime Achievement Award, NIBS Innovator, and Exceptional Woman in Building. Two students – one each studying engineering and architecture – were awarded the Betty and Mort Marshall Memorial Scholarship.
This year's award winners will be announced at Building Innovation 2023 at the Washington Hilton in Washington, DC. BI2023 takes place September 5-7. Register now at buildinginnovation.org. Learn more about NIBS honors and awards at nibs.org/awards.