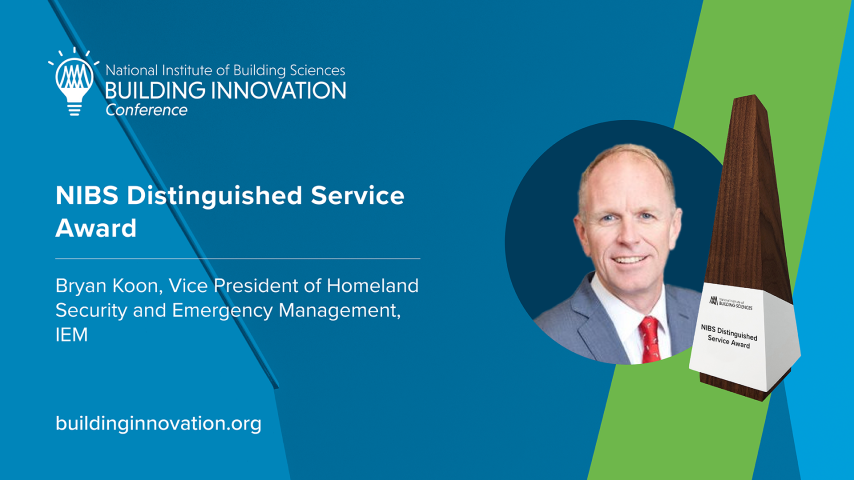 Recognizing the Exceptional Service of NIBS Members
Each year, the National Institute of Building Sciences recognizes an outstanding individual or organizational member who has made a substantial contribution in support of the mission, goals, and objectives of NIBS. The NIBS Distinguished Service award also honors the impact made to the entire building community.
Last year's recipient of the Distinguished Service award was Bryan Koon, Vice President of Homeland Security and Emergency Management for IEM. Koon has worked in emergency management in the corporate and government sectors, including the Florida Division of Emergency Management and Walmart's Emergency Management Division.
Over the years, Koon has been dedicated to the mission of NIBS through his work on the Multi-Hazard Mitigation Council, providing guidance to the organization and the building industry as a whole.
During Building Innovation 2022, additional awards were given for positive impact to the building industry. These awards included NIBS Innovator, NIBS DEI Leadership, Exceptional Woman in Building, Future Leaders, and the Mortimer M. Marshall Lifetime Achievement Award. Two students also were awarded the Betty and Mort Marshall Memorial Scholarship.
This year's award winners will be announced at Building Innovation 2023 at the Washington Hilton in Washington, DC. BI2023 takes place September 5-7. Register now at buildinginnovation.org. Learn more about NIBS honors and awards at nibs.org/awards.