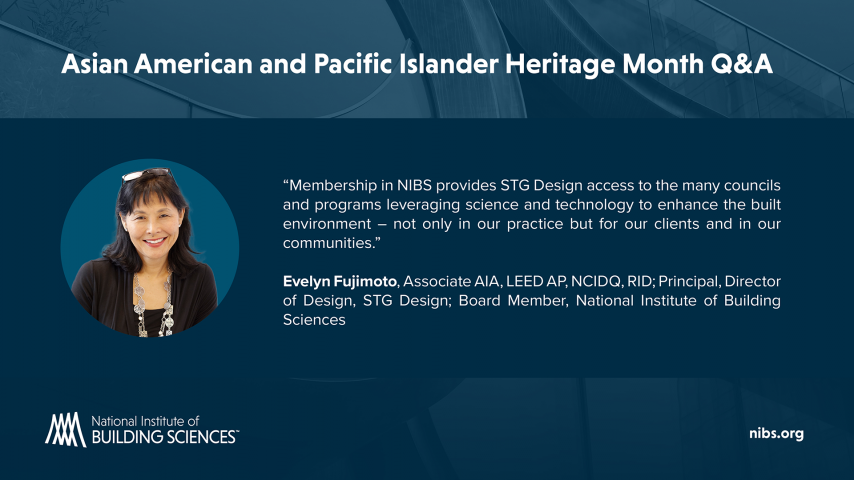 Q&A: Evelyn Fujimoto, Principal with STG Design
In celebration of May's Asian American and Pacific Islander Heritage Month, we spoke with NIBS Board Member Evelyn Fujimoto, Associate AIA, RID, LEED AP, and Principal with STG Design. Here's what Fujimoto shared with us.
How did you get started in the built environment?
I started my career with multiple internships with an architecture and design (A+D) firm in Houston, Texas. The firm was surprisingly diverse and inclusive for the time, and 70+ employees welcomed me into an extended professional family, many who became lifelong friends. As the firm started to gain international prominence, I moved to Hong Kong, then London, and Abu Dhabi/Dubai, prior to returning home to Texas. I am fortunate to have spent the majority of my professional career living and working internationally across multiple cultures and learning to embrace diverse views and positions.
What drew you to this profession?​​
As a child, I was an outlier in my immediate and extended families as the only one with artistic sensibilities. I​ was very interested in the arts, always drawing and manipulating my immediate physical environment. Not long after I enrolled in university and declared my major, I learned of a family tragedy that was not discussed much while I was growing up​. My ​mother told me that my maternal grandfather and uncle, who were both killed in a bombing raid in Japan during WWII, were an engineer and an architectural student, respectively. That was the moment I realized the source of the design DNA resident in me and that I should embrace my inner designer.
Who were your early influencers, in terms of your design aesthetic?
Early in my career, I was fortunate to be introduced to several ​luminaries in my profession, including Art Gensler and Margo Grant. Art took the time to reach out to me personally when he knew I was facing severe challenges on a project. He taught me about empathy and leadership, and giving space to people to reach deep to find their strength. Margo is celebrated for mentoring women at a time when there were very few female leaders in the A+D Community. She had a methodical​ and interrogative ​approach to design that really informed me early in my career. However, one especially strong influence was an​amazing young architect named Gary Grether, ​who ​took me under his wing​. Tragically, Gary died relatively young, but I know he would have been an architectural giant had he lived. Even today, it's not uncommon for me to ask myself, "What would Gary do?" His work ethic, commitment to design, ability to see beyond adversity, and dedication to create simplicity out of complexity has stayed with me all of these years.
Do you have a favorite design or building that you helped create?
I have two projects that are very meaningful to me. The first is the London Stock Exchange in Paternoster Square in the United K​ingdom​. The LSE was a tradition-bound organization, insular, and very much an ivory tower, with towers within towers inside of the organization. The project was the first big move they had made in over 25 years. The LSE took a leap of faith in allowing this Japanese American Texan British ​designer to transform the way that they worked and collaborated through ​design.​ As a result, the London Stock Exchange became a more outwardly facing​,​ accessible​, ​​and collaborative organization.​ A highlight was presenting the project to Queen Elizabeth II and the late Prince Philip at the opening of the London Stock Exchange.
The other project is the Travis County Civil and Family Courts in Austin, Texas. ​The judges told us that we needed to be aware that this building would be the setting for the worst and best days in many people's lives. The loss of a child or the adoption of a child are opposite ends of the emotional spectrum. The design solution was driven by this awareness, balancing the need to have a space that expresses ​the gravitas of the law, but also speak​s ​to the needs of the community, while providing a human​e ​scale and sensitivity during challenging​ and celebratory times.​
What's your favorite city, from a design perspective?
London, where I lived and worked for 10 years, is probably my favorite city.​ The history, traditions, and architecture never cease to ​amaze me. More recently, I was very taken with Denmark and, in particular, the cities of Copenhagen and Aarhus. I traveled to Denmark in 2019 for a ​week long immersion in the rich design heritage of that beautiful country. Denmark has​ wholeheartedly embraced the principles in the United Nations Sustainable Development Goals​ as 'the blueprint to achieve a better and more sustainable future for all. (The goals) address the global challenges we face, including poverty, inequality, climate change, environmental degradation, peace and justice.' The results are transformative when a country or city ​commits to placing the needs of the community first and foremost as they develop their built environment.
What advice do you have for youth who may want a career in this industry?
If you are drawn to a profession in service of the built environment, dig deep and find what it is that will sustain you for a lifetime. The hours are long, and we are often at the mercy of things we cannot control. The reasons are diverse—perhaps you love the duality of the chaos and order of construction sites. Or you spent hours as a child building objects out of Lego blocks. Or maybe it is the joy in solving complex technical issues. My quest is to finesse our physical environments to drive human experience. Find what it is that drives you and never lose sight of this throughout your career.