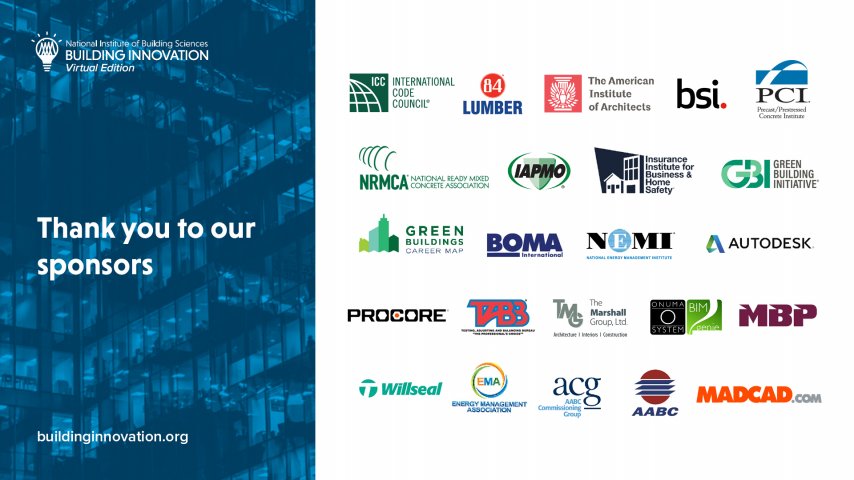 To Our Building Innovation 2021 Sponsors: Thank You
NIBS just wrapped a successful Building Innovation 2021, virtually hosting hundreds of attendees September 27-29. We're grateful to all of our BI2021 presenters, attendees, and sponsors.
This year's presenting sponsor was the International Code Council. Other generous supporters of BI2021 included 84 Lumber Co., The American Institute of Architects, BSI America, National Ready Mixed Concrete Association, Precast/Prestressed Concrete Institute, International Association of Plumbing and Mechanical Officials, Autodesk, Building Owners and Managers Association International, Green Building Initiative, IREC's Green Buildings Career Map, Insurance Institute for Business & Home Safety, MADCAD.com, MBP, National Energy Management Institute, Onuma System -BIMgenie., Procore Technologies, Inc., Testing, Adjusting and Balancing Bureau, The Marshall Group Ltd., Willseal, Associated Air Balance Council, AABC Commissioning Group, and Energy Management Association.
"Building Innovation is made possible because of our incredible sponsors," said Lakisha A. Woods, CAE, President and CEO of NIBS. "We are grateful for the support. The National Institute of Building Sciences is able to produce this meeting and events year-round because of the association and industry support of the nation's built environment."
For more information about the events NIBS hosts throughout the year, visit nibs.org.