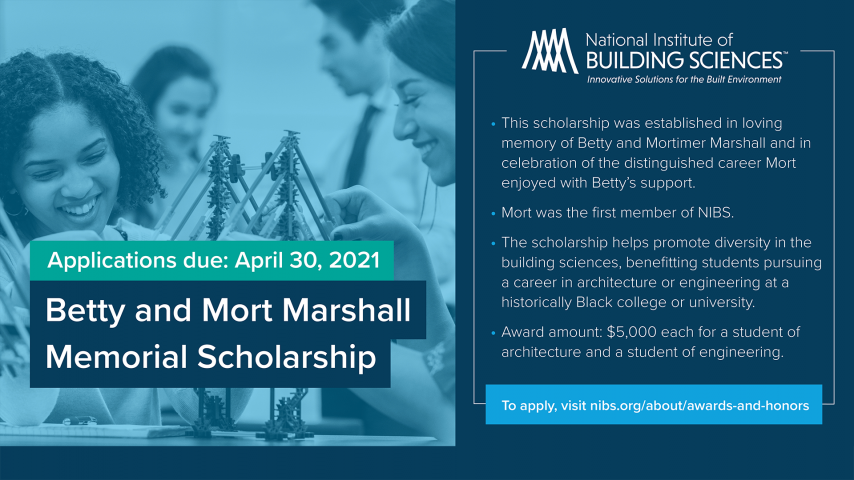 Nominations for NIBS Awards and Honors Are Open
It's important to recognize the individuals who have made significant contributions to positively influence and greatly impacted the built environment. Through Monday, May 31, NIBS will accept nominations for the following awards categories:
The Exceptional Woman in Building Award will recognize a dynamic, trailblazing woman who has made outstanding contributions to the built environment. This award is in celebration of the industry's remarkable female thought leaders, entrepreneurs, and champions of change.
The Future Leaders Award recognizes an individual under the age of 35 whose innovative talent is driving the industry into the future. It's time to recognize the next generation of leaders across the built environment.
The Diversity, Equity and Inclusion Award seeks to honor champions of diversity and celebrate their exemplary leadership in advancing DEI in the building industry. This award will recognize corporations or associations for their positive impacts on the industry and the community as a whole, by increasing diversity in leadership roles and engaging in ongoing efforts that yield measurable change.
The NIBS Innovator Award recognizes an individual, organization, or project that has made ground-breaking advances and significant technological contributions to the built environment.
The Distinguished Service Award will be awarded to an individual or organization member who has made a substantial contribution in support of the mission, goals, and objectives of NIBS. It will honor the impact made to the entire building community on NIBS' behalf.
The Mortimer M. Marshall Lifetime Achievement Award is the highest honor at NIBS. It goes to someone who has demonstrated a lifetime of dedication to the mission and goals of the organization. This award was established in 2011 and named after the first member of NIBS.
In addition to the above awards, we proudly award an annual scholarship: The Betty and Mort Marshall Memorial Scholarship. This scholarship is made possible because of a generous endowment from Betty and Mort, a sponsorship from the National Institute of Building Sciences and contributions from friends, family and colleagues.
The scholarship celebrates the distinguished career that Mort enjoyed with Betty's support. It goes to benefit students pursuing a career in architecture or engineering at a historically Black college or university (HBCU).
To review eligibility requirements for NIBS' awards and honors, visit Awards and Honors | National Institute of Building Sciences (nibs.org)