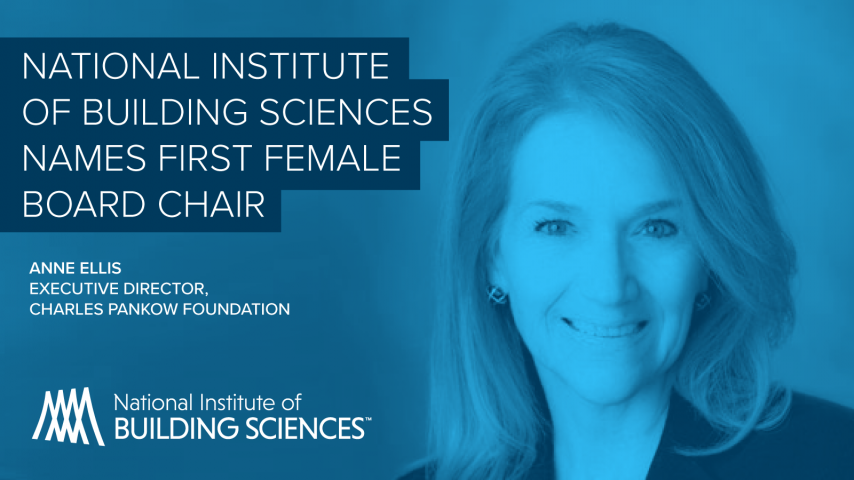 NIBS Board of Directors and Councils Announce 2021-2022 Leadership
The National Institute of Building Sciences has installed the 2021-2022 Board of Directors and council leadership, effective October 1.
The board includes several new officers:
Anne M. Ellis, P.E., Hon.M.ACI, F.ASCE, M.NAC, Executive Director, Charles Pankow Foundation – Chair
Thomas H. Phoenix, Sr., PE, FASHRAE, LEED-AP, CPL Architects and Engineers, PC – Vice Chair
Darrell X. Rounds, FMA, C.E.M., EV Infrastructure Strategy Lead - North America, General Motors – Treasurer
Charlie (Chuck) D. Curlin, Jr., PE, CEM, CPD, Principal with Shultz Engineering Group – Secretary
New board members include four President Joseph Biden appointees: Evelyn M. Fujimoto, Principal, Director of Design, Interiors at STG Design; Lori Peek, Director, Natural Hazards Center and Sociology Professor, University of Colorado Boulder; Dr. Kimberly L. Jones, Associate Dean, Research and Graduate Education, College of Engineering and Architecture and Professor and Chair, Department of Civil and Environmental Engineering, Howard University; and William Holloway, Vice President and Principal, Bernardon.
Also joining the board are Sez Atamturktur Russcher, PhD, Head of the Department of Architectural Engineering, College of Engineering, Penn State University; Fiona Cousins, PE, LEED Fellow, an Arup Fellow and member of Arup's Group and Americas Region Boards; and Sandra Benson, Global Head of Industry Transformation, Procore Technologies.
"The collective level of expertise and knowledge within this board can bring transformative leadership to the built environment," said Lakisha A. Woods, CAE, President and CEO of NIBS. "In addition, the new board moves us toward a better representation of the diversity of this country, and the nation's communities will benefit from their efforts."
Council Leadership 2021-2022
Also effective October 1 were the following board officers for NIBS councils:
Building Seismic Safety Council
Charles J. Carter, SE, PE, PhD, President, American Institute of Steel Construction – Chair
Kent Yu, PhD, SE, Principal, SEFT Consulting Group – Vice Chair
Roberto Leon, P.E., PhD, D.H. Burrows Professor of Construction Engineering, Virginia Tech – Secretary
Craig A. Davis, PhD, PE, GE, consultant, former Chief Resilience Officer (retired), Los Angeles Department of Water and Power (LADWP) – Member Member at Large
Joann Browning, PhD, PE, Dean and David and Jennifer Spencer Distinguished Chair, Dean of Engineering, Professor of Civil Engineering, The University of Texas at San Antonio – Member at Large
James Cagley, PE, SE, Principal, Cagley & Associates, Inc. – Past Chair
Jiqiu (JQ) Yuan, PhD, PE, PMP, Executive Director, BSSC – Staff Lead
Multi-Hazard Mitigation Council
Sara Yerkes, Senior Vice President, International Code Council – Chair
Anne Cope, PhD, PE, Chief Engineer, Insurance Institute for Business & Home Safety – Vice Chair
Russ Strickland, Executive Director, MD Emergency Management Agency – Secretary
Lauren Alexander Augustine, Executive director of the Gulf Research Program of the National Academies of Sciences, Engineering, and Medicine – Member at Large
Bryan Koon, Vice President, IEM – Member at Large
Daniel Kaniewski, PhD, Managing Director, Public Sector, Marsh & McLennan Companies – Chair, Committee on Finance, Insurance and Real Estate
Jiqiu (JQ) Yuan, PhD, PE, PMP, Executive Director, MMC – Staff Lead
Building Information Management Council
Rachel Riopel, AIA, Digital Practice Leader, HDR Inc. – Chair
Nancy Novak, Chief Innovation Officer, Compass Datacenters – Vice Chair
Alex Belkofer, CM-BIM, VDC Director, McCarthy Building Companies, Inc. – Secretary
Shawn Foster, Director, Business Development & Customer Success, Allegion – Member at Large
Van Woods, BIM Program Manager, Seattle District, U.S. Army Corps of Engineers – Past Chair
Roger J. Grant, CSI, CDT, Executive Director BIM Council – Staff Lead
Dominique Fernandez, Program Director – Staff Lead
Consultative Council
Katharine Morgan, President, ASTM – Chair
Brian Pallasch, Executive Vice President & CEO, IIBEC – Vice Chair
Kyle Barry, PMP, Senior Project Manager – Staff Lead
Off-Site Construction Council
Aundre Oldacre, Managing Partner, AoRa Development – Chair
Ryan M. Colker, J.D., CAE, Vice President of Innovation, ICC – Vice Chair
Marc Bielas, Founder & CEO, Quilt Group – Secretary
Ryan Smith, Washington State University, MOD X – Member at Large
Laurie Robert, Consultant (former VP Sales, NRB Modular Solutions, Retired) – Member at Large
Kyle Barry, PMP, Senior Project Manager – Staff Lead
Building Enclosure Technology and Environment Council
Stephen Shanks, CxA, BECxP, Principal, ECS Mid-Atlantic, LCC – Chair
Dudley McFarquhar, Ph.D., PE, Owner, McFarquhar Group Inc – Vice Chair
Keith A. Simon, AIA, CPHC, BECxP, CxA+BE, LEED AP, CEI,  Senior Associate, Building Enclosures Department Manager, Terracon Consultants, Inc.– Secretary
Brian Stroik, Performance Excellence / Quality Consultant at American Contractors Insurance Group– Member at Large
Justin Boone, Associate Principal & Unit Manager, WJE Associates – Member at Large
Cheryl Smith, AIA, LEED AP, Principal, NELSON Worldwide – AIA Liaison
Paul Bertram, CSI Distinguished Member, FCSI, CDT, LEED AP, GGP, Owner, PRB Connect – Board of Directors Liaison
Stephanie Stubbs, Assoc. AIA, PMP, Director of Facility Lifecycle Management, National Institute of Building Sciences – Staff Lead
Facility Management and Operations Council
Rolf Alexis, Senior Global Capital Asset Analyst, Global Facilities, General Motors – Chair
Emily Herndon, LEED AP, Senior Consultant, Woolpert, Inc. – Vice Chair
Casey Martin, Senior Consultant & Program Manager, Jacobs – Member at Large
Jay Kline, PE, LC, BIM Program Manager – Staff Lead