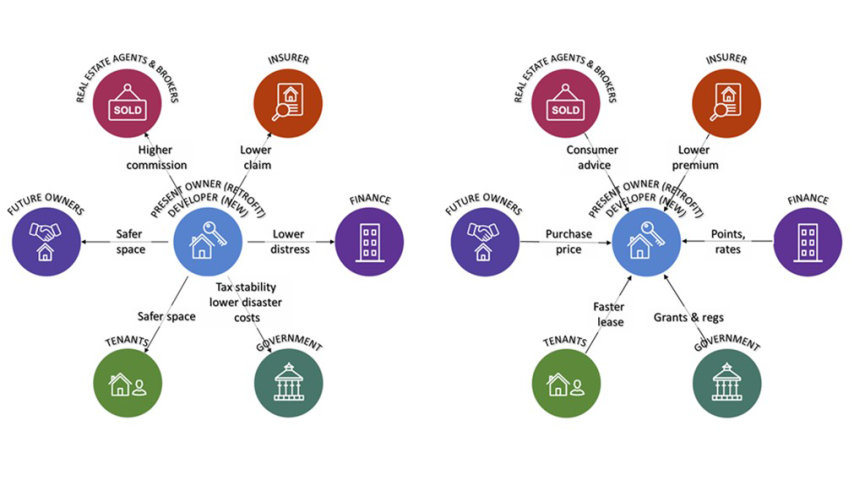 NIBS and Fannie Mae Release Mitigation Investment Roadmap
With the support of Fannie Mae, the National Institute of Building Sciences has developed a roadmap on mitigation investment to help Americans and the nation's built environment prepare for and respond to the devastating effects of extreme weather.
Project Background
In 2020, the NIBS Committee on Finance, Insurance, and Real Estate (CFIRE) published A Roadmap to Resilience Incentivization, which calls for public and private incentives that allow owners of buildings and other infrastructure to facilitate the upgrade of existing infrastructure and better design of new infrastructure.
The newly-released Resilience Incentivization Roadmap 2.0 is a continuation of the 2020 white paper, where the project team worked with experts from building science, lending, insurance, developer, owner, real estate, appraiser, and public assistance to understand (1) the actors, who can promote, participate in, or resist incentivization, and what drives their decisions, and (2) how to carve the economy at the joints (i.e. how to group stakeholders so each incentive template best serves a large class).
"NIBS' previous roadmap identified a crucial roadblock to additional investment in resilience: The homeowner bears the full cost of the investment but shares a significant share of the benefits with other stakeholders," said Dr. Sean Becketti, Principal with Elliott Bay Analytics. "Roadmap 2.0 goes further and identifies which stakeholders are best-positioned to use their share of the benefits to finance further incentives to the homeowner. In addition, Roadmap 2.0 shows that behavioral incentives may be just as important as financial incentives in sparking action by homeowners."
About the Project
The Resilience Incentivization Roadmap 2.0 paper, a product of collaboration across business and academic disciplines and incorporating input from a range of stakeholder groups, offers a roadmap for implementing resilience incentives with the goal to make communities better prepared for the devastating effects of natural disasters. The study mainly focuses on residential buildings subject to flood, and also leaves language and procedures flexible to deal with other perils, occupancies, and locales.
"Roadmap 2.0 advances on our 2020 roadmap and earlier whitepapers in at least three new ways," said Dr. Keith Porter, Chief Engineer with the Institute for Catastrophic Loss Reduction. "(1) We recognize how resilience features can increase the resale value of a home, in addition to helping to reduce future loss. (2) We added social psychology incentives to the monetary ones. (3) We quantified the benefits that accrue to each incentive offerer, to help them price their incentives. We hope these and other innovations bring NIBS' concept of multilateral incentives closer to practice."
Roadmap 2.0 Key Findings
Based on extensive research and input from organizations representing a cross-section of stakeholder groups, the report presents several key findings:
Mitigation saves, but it doesn't do so in proportion to individual stakeholder investments.
Co-beneficiaries can share the cost of such investments – but they face similar challenges to those of the property owner.
Public-private coordination is essential.
Based on these conclusions, the project team has formulated a roadmap aimed at establishing and executing initiatives to bolster disaster resilience. This comprehensive plan encompasses the conceptualization of a certification program tailored to enhance flood resilience, along with the contemplation of three prospective pilot studies.
The primary purpose of this roadmap is to offer a structured framework that fosters alignment of the motivations and interests of various stakeholders involved. While it serves as an illustrative model for enhancing pluvial urban flood resilience, it is noteworthy that numerous principles outlined in the report can be adapted to address challenges related to riverine and coastal flooding, as well as other non-flood-related perils.
Taken together, the report recommendations form the basis for a pilot program (or series of pilot projects) to create value for all stakeholders while generating useful learnings toward future resilience incentive efforts.
"The property/casualty insurance industry is uniquely well positioned to help support and drive investment in resilience," said Insurance Information Institute CEO Sean Kevelighan. "One of the top insurance-related takeaways from this paper is that collective responsibility across a range of stakeholder groups will be required to reduce exposures and make it possible for insurance to be more available, as well as affordable. To be clear, no one stakeholder group can do it alone."
CFIRE officials will host a webinar on October 18, 2023, to go over the project study. Visit CFIRE for forthcoming details.