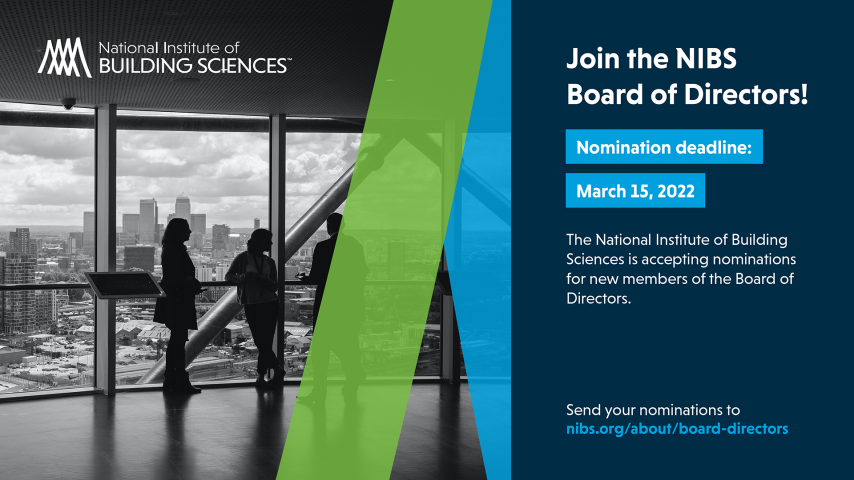 Lead the Conversation on the U.S. Built Environment. Join the NIBS Board of Directors!
The National Institute of Building Sciences Board of Directors is accepting board nominations for the next term. The three-year term begins October 1, 2022.
A nomination form must be completed for every proposed candidate. Self-nominations are allowed, and references may be requested. Nominations are due by March 15, 2022.
The NIBS Board Nominations Committee will give equal consideration to single and multiple nominations.
Not a member of NIBS? That's OK. But if your nomination is accepted, you will be required to become a member post-election.
Who's a Candidate?
We seek representatives of the various segments of the building community, including construction, construction labor organizations, product manufacturers, and builders, housing management experts, and experts in building standards, codes, and fire safety. We also are looking for representatives of consumer and public interest, including architects, engineers, and officials with federal, state and local agencies.
As a member of the board, we need a few things from you. This includes determining the mission and purposes of the organization, selecting and evaluating the performance of the chief executive, strategic and organizational planning, and ensuring strong fiduciary oversight and financial management.
You'll also need to attend all scheduled board meetings and possibly serve as a board liaison to a council or workgroup.
The Board Nominations Committee meets in April to select new candidates to recommend to the board.  The election will be held May 12-13, 2022. For more information, reach out to Jennifer Hitzke, Manager, Executive Office, Board & Volunteer Relations at jhitzke@nibs.org.