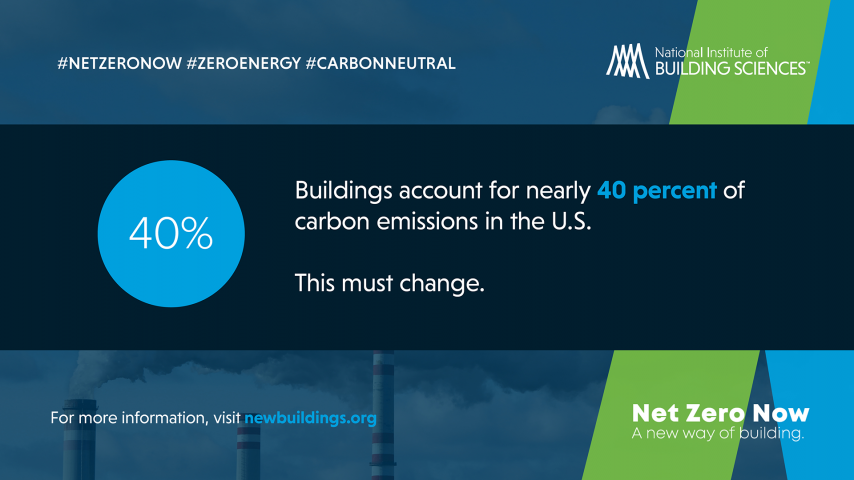 Join Us for Net Zero Buildings Week, June 13-17!
NIBS is participating in Net Zero Buildings Week with the New Buildings Institute (NBI) and many building industry organizations.
Today, buildings account for nearly 40 percent of carbon emissions in the U.S.
The #NetZeroNow campaign takes place June 13-17 and aims to showcase and promote the benefits of net zero buildings for a clean energy future.
According to NBI, the growth trend for net zero is steep.
"The count of verified and emerging buildings across the United States and Canada has increased tenfold since 2010 and encompasses over 62 million square feet of commercial and multifamily building space," NBI says. "As more cities and states are pursue climate action plans increased attention will be focused on net zero building performance as a standard for homes and commercial buildings. This new vision is capturing the attention of building owners, designers, policymakers, civic leaders, operators and others who see its potential to help rethink how we approach building design and operation into a future that uses clean energy resources efficiently and eliminates the carbon footprint of buildings."
NBI recently published a guide to help districts leverage funding for learning spaces that are better for people and the planet. It's called Investments From State and Federal Leaders Provide Vital Funding to Create Healthy Schools, Futureproof Against Climate Impacts.
For more information about the benefits of net zero and what it will take to get there, visit NBI.