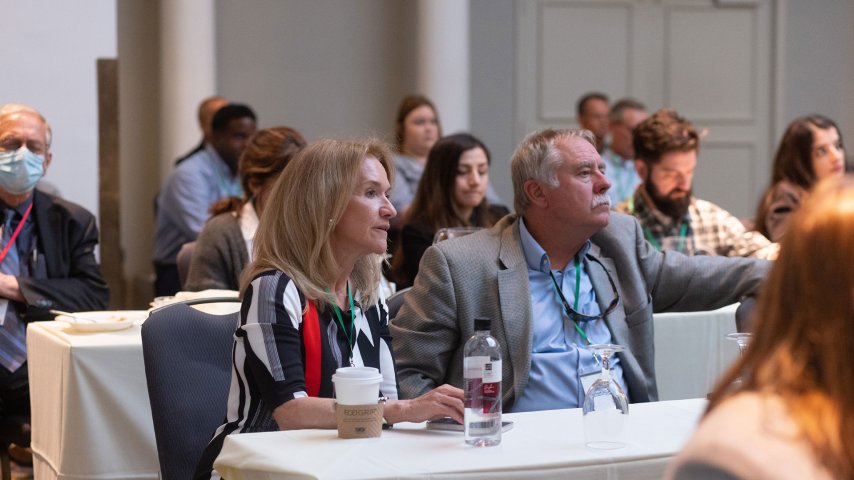 Celebrating Women's History Month: Get to Know Anne Ellis, NIBS Board Chair
Anne M. Ellis, P.E., Hon.M.ACI, F.ASCE, NAC is a recognized structural engineer, industry trailblazer, and champion of innovation to improve our built environment. Her career extends over four decades, six continents, and numerous boundary-spanning corporate roles enabling dynamic growth and innovation in technology, business, and operations.
A trusted advisor to business and geopolitical leaders, Ellis serves as non-executive director on the boards of Alpha Corporation and Somero Enterprises, Inc. and as an advisor to the leadership of GEI Consultants, Inc. and CarbonBuilt. She is a tireless industry volunteer and has served in many high-profile positions in the building industry, including first woman to serve as chair of the NIBS Board of Directors, president of the American Concrete Institute, and appointee to the American Society of Civil Engineers Industry Leaders Council. By appointment of five different U.S. cabinet secretaries, Ellis served on federal advisory committees, addressing energy and trade policy. In 2019, she was inducted into the National Academy of Construction, and in 2022, she received the Construction Industry Institute Carroll H. Dunn Award of Excellence.
We asked her a few questions about her work with the built environment.
1.            What steered you in the direction of professional engineering?
Three inspiring and enthusiastic engineers – my church youth group advisor and two professors at my alma mater Virginia Tech - who showed me how to capitalize on my love of math and "see" opportunities new to me and very different than anything I'd previously considered. This speaks to the power of champions and mentors.
2.            What has been your favorite part of serving as Board Chair of NIBS?
The people! The Board directors are individually and collectively inspiring. NIBS uniquely convenes the many and diverse voices across our industry: owners, designers, builders, regulators, researchers, academics, and more. The Board is a microcosm of our industry. The perspectives shared at the Board level on any topic are equally diverse, and the knowledge shared is powerful.
3.            How has the built environment changed over the course of your career?
At the beginning of my career, we were focused on quality and life safety. Today, we strive to achieve so much more: low impact, resiliency, wellness, productivity, equity, and much more. And we do so with powerful advanced technology, energy alternatives and a diversifying workforce.
4.            What's on your radar for 2023 – in work and in life?
So much of what we design and build is informed by knowledge, capabilities and practices of the early and mid-20th century. We have advanced so far beyond. The IIJA, IRA, and executive orders provide the catalyst for a new framework to which we design, build, and operate. To transform to carbon-free electricity, zero-emission vehicles, net-zero emissions building portfolios and net-zero emissions Federal procurement, our regulatory guidance and procurement policies will need to be modernized to reflect these new goals. We will begin the hard work needed to transform practice. If you see desire better ways, now is the time to engage!