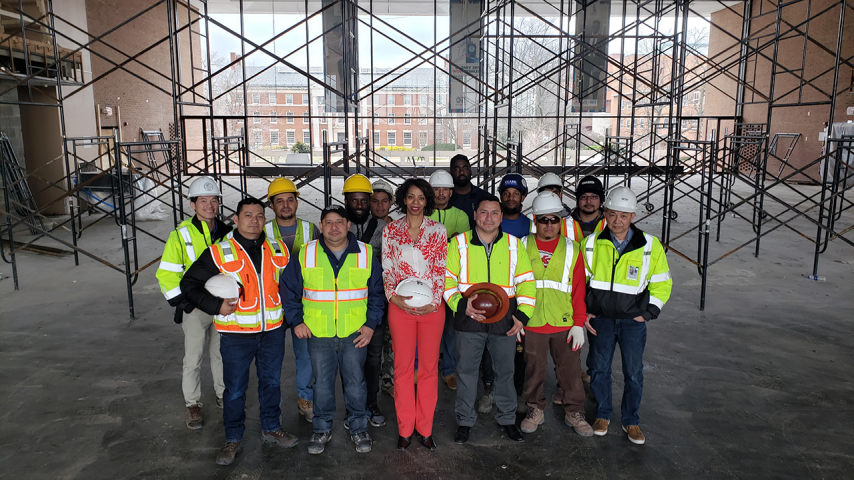 Celebrating Black History Month: JocCole "JC" Burton, President & CEO of Maven Construction
There are two Americas that converge on construction sites every day: One of an inherited position of strength and false authority and the other – people of color who come in to complete their jobs.
It's a dichotomy that has prevailed throughout history.
JocCole "JC" Burton, President & CEO of Maven Construction, reminds us that slave labor was used to build most of early America. It built the Smithsonian Castle, Wall Street, Harvard University, and other national treasures.
Yet, somehow, African-Americans have been alienated out of the construction industry.
"We were the first immigrant craftsman who built this land," Burton said. "We can continue to reshape America by the work that we do. There shouldn't be a single building that's built without the hands of a person of color and meaningful participation. As a leader, I try to make sure there's equity. We're all working together."
Burton has spent more than 26 years in construction.
In addition to her work with Maven Construction, she's served for more than two years as a Fellow with the Startup Leadership Program, crafting a construction incubator.
Startup Leadership Program is a global not-for-profit educational program and professional network for the next generation of founders and entrepreneurs. Created in Boston in 2006, the program has educated 2,500 fellows in 12 countries. Fellows have started more than 1,500 companies, raising $550 million-plus from the world's leading investors and accelerators.
The construction incubator will address the economic inequality in construction, as it relates to women and minorities. It will launch in Boston in April.
All in a Day's Work
In 2018, Burton rebranded her company, WoodlineSolutions, to become Maven Construction. The rebranding serves to show how Maven Construction is staying relevant and expanding in the marketplace.
Maven Construction is a general construction company focused on energy efficiency, multi-family housing, research laboratories, education, and retail projects. Since 2008, Maven Construction has delivered more than 35 projects, totaling more than $610 million.
It has offices in Washington and Boston and has 32 staff members, including nine on the executive team.
"Rebranding has provided new opportunities and allowed us to get closer to the community in many ways," Burton said, mentioning the development of a retail group because many retail partners were forced to pivot during the pandemic.
Recently, Maven Construction locked in national contracts with Trader Joe's and Krispy Kreme Doughnuts, Inc.
Burton is the first Black woman to hold a mayoral appointment with Boston's Construction Licensing Board, which is part of the city's Board of Examiners and is responsible for issuing Boston Builders Licenses to qualified individuals who complete the application process and pass the examination. Burton also serves on the Boston Employment Commission. She was appointed to both boards in September 2020.
Burton also is a former White House Champion of Change for clean energy. She received the designation in 2011 by the Obama Administration and occasionally met with other thought leaders to help influence and inform clean energy policy.
Crediting Her Mentors
Three men served as powerful mentors to Burton. They are Jim Holland, a now-retired general superintendent with Hardin Construction Group, where Burton served as a senior project manager for eight years; Egbert L. J. Perry, CEO with The Integral Group in Atlanta; and Herman J. Russell, a business icon and one of the largest general contractors in the Southeast, who passed away in 2014.
The intersection for these business men were that each worked hard to earn their iconic status in the industry, they all had daughters, and were determined to share their knowledge with the next generation, including Burton.
"They could see there was a place for women in construction," she said. "I learned a lot from them, and I took the best of their best practices and made them my own. If we embrace our feminine approach to the business, we don't have to mirror the way that a man would do it. We'll thrive within our own unique approach."
Burton comes from a family of engineers and builders. Her grandfather owned an appliance and TV repair company, and when Burton was 9, she took apart her family's television and put it back together.
Her passion for figuring things out led her to engineering. Burton graduated with a bachelors' degree in chemical engineering from the University of California, Berkeley. She received her MBA certificate from George State University.
Burton knows her 10-year-old daughter might go into construction someday. Her daughter has owned a hardhat and construction boots since she was 3.
"The work is hard, and it's not easy for a woman to be in this space," Burton said. "You have to be confident in yourself and not be afraid to be successful."