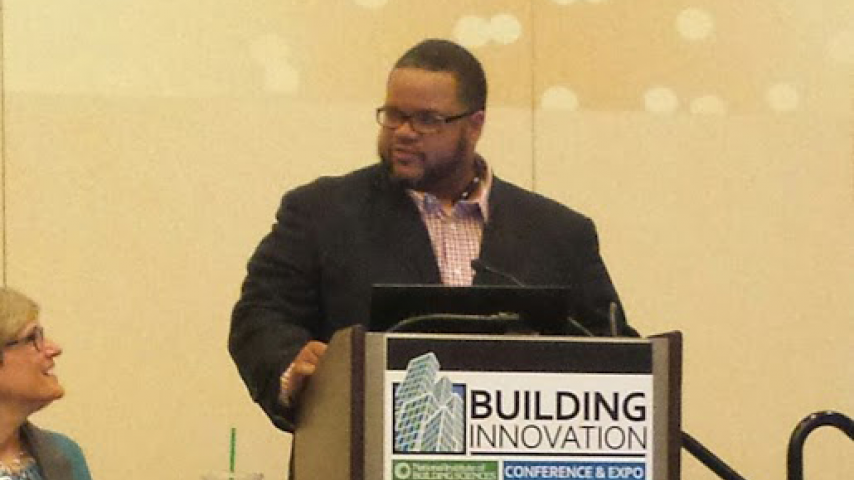 Celebrating Black History Month: Darrell X. Rounds, Operations Group Manager with General Motors
In 1963, the Rev. Dr. Martin L. King, Jr. said, "The ultimate measure of a man is not where he stands in moments of comfort and convenience, but where he stands at times of challenge and controversy."
It's a message that strongly resonates with Darrell X. Rounds, FMA, C.E.M., Operations Group Manager with General Motors. Rounds has served 23 years with GM, where, two days after his college graduation, he started as a summer intern at the Delta Engine Plant's Facilities department.
"Life gives us so many challenges, and the ability to react and make decisions quickly is necessary," Rounds said. "This helps to determine where you stand on issues, and where you stand ultimately displays who are you as an individual."
COVID-19 has presented unprecedented challenges.
March marks one year that Rounds and his team have managed the planning, coordination, and health of the GM headquarters at Renaissance Center in Detroit, since the start of the pandemic. The team tirelessly has worked to keep building occupants and workers safe.
"As a leader, you have to make decisions," he said. "You can let the challenges come to you or you can go after them. However these challenges may come, analysis of the situation, planning and strategizing on a solution, and execution of an action plan to resolution is essential."
Despite stay-at-home orders and lockdowns, Rounds and his team never really stopped working. They still came to the office because GM workers, particularly those in manufacturing, were deemed critical infrastructure employees. GM remained in the forefront at the onset of the pandemic, pivoting from making Corvettes and Suburbans to ventilators and surgical masks.
And it was up to Rounds and his team to make sure that GM's World Headquarters, the Renaissance Center, as well as 30 other GM properties that he oversees across the U.S. were all up to snuff.
Leading Operations and Creating Value
Pre-pandemic, Rounds' work days were filled with meetings and planning with his team. He would support his leaders and team members, kick off meetings, outline safety and operational protocols, and ensure that business plans were being executed.
Now, his days involve more planning for the day when employees will return back to the office as well as coaching and leading team members "putting them in the best place to be successful and empowering them to make decisions for the operation."
Prior to COVID-19, the Renaissance Center could have up to 8,000 building occupants, with the public visiting retailers, including an optometry office, clothing stores, coffee shops, and several restaurants.
But once the pandemic hit, building occupancy fell to just 5 percent.
Rounds and his team quickly planned and configured a uniform way for Renaissance Center workers to safely enter the property. It began with questionnaires, temperature screening, strict mask requirements, and social distancing. And, the process needed to be seamless and smooth.
It Began With a Summer Internship
Rounds graduated in 1997, with his Bachelor of Science in Electrical Engineering from Michigan State University. He was on his way to business school, when he began looking for a summer job.
A friend, who worked with GM, helped him secure a summer internship with the company.
The rest is history. After the internship, Rounds took a full-time position and would later obtain his Master of Science degree in Construction Management from Eastern Michigan University.
As a young project engineer, facilities management appealed to Rounds. There were so many project opportunities given to him early on – installation of security surveillance, replacing boilers, installing truck docks, installation of building management systems, and even small-scale construction like pavement and roof repair.
"When you consider the nature of the project opportunities I was given along with the opportunity to interact with others," he said. "It was enough for me to say, 'Hey, this is kind of cool.' So, I decided I was going to be a facilities guy for life."
The job keeps him active, and Rounds' family is completely supportive.
He encourages youth to explore pursuing an education in the management of buildings. If you're good at planning and coordination, and you like challenges and problem solving, this just might be a solid career path.
"No matter what happens in society, you're going to need buildings," he said. "People are going to need a place to live, to manufacture products, space from which to market and sell their goods, and buildings to store various types of inventory."
For Rounds, he has aspirations for a bigger executive leadership role.
"Even though it seems like I have a lot to manage, call me crazy, but I want more responsibility," he said. "I'm beginning to establish my presence as a thought leader in this built environment space, and I welcome the opportunity to be a greater executive leader."