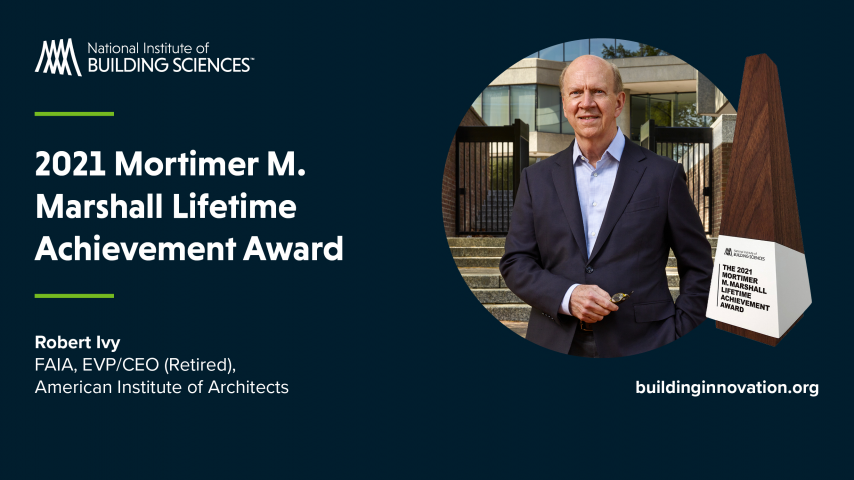 Building Innovation: NIBS' Highest Honor is The Mortimer M. Marshall Lifetime Achievement Award. Who Gets Your Vote?
Since 2011, the National Institute of Building Sciences has recognized a single built environment leader – the highest honor we have in our awards collection – during the Building Innovation Conference.
The Mortimer M. Marshall Lifetime Achievement Award goes to someone who has demonstrated a lifetime of dedication to the mission and goals of NIBS. The award was named after the first member of NIBS.
Last year, the 2021 Lifetime Achievement Award was given to Robert Ivy, FAIA, and now retired EVP/CEO of the American Institute of Architects.
Ivy announced last May that he planned to retire at the end of 2021, after a decade of service in the top spot with AIA.
A "renaissance man" with a broad range of interests and acumens, Ivy distinguished himself as a master communicator using built form or English language: as an architect in his native Mississippi, as a book author (the authoritative biography Fay Jones: The Architecture of E. Fay Jones, FAIA), and later as Editor-in-Chief of Architectural Record magazine. He also is distinguished as "Master Architect," a title bestowed by the national architecture fraternity Alpha Rho Chi, for his effectiveness in communicating the value of design. He is one of seven architects, including I.M Pei, Mies van der Rohe, and Buckminster Fuller, to receive this honor in 100 years and the only 21st century recipient to date.
Send Us Your Nominations
May 31 is the deadline to get your nominations in to recognize leaders in the built environment.
We are looking for your votes for the following awards: NIBS Distinguished Service, Exceptional Woman in Building, Future Leaders, NIBS Innovator, NIBS DEI Leadership, and The Mortimer M. Marshall Lifetime Achievement Award.
Award winners will be announced at Building Innovation 2022 at the Mayflower Hotel in Washington, DC. BI2022 takes place September 26-28.
Review nomination criteria and see our past winners at nibs.org/awards.