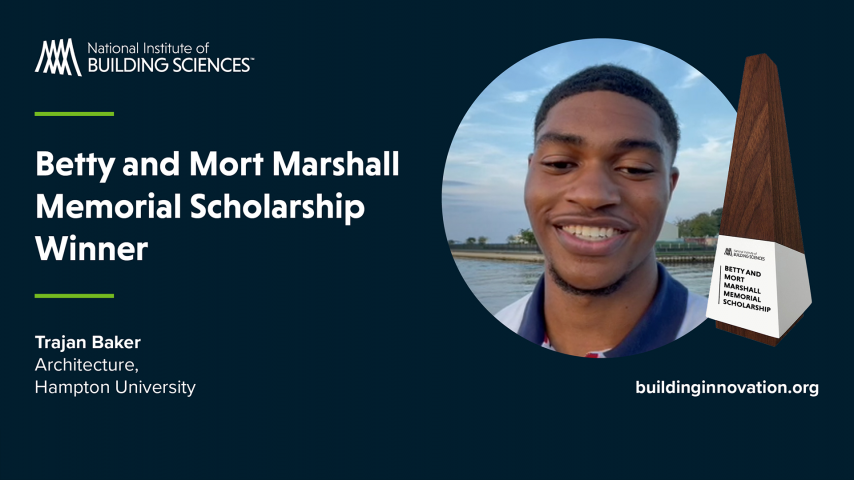 Building Innovation: Apply Now for the Betty and Mort Marshall Memorial Scholarship
The Betty and Mort Marshall Memorial Scholarship was established because of a generous endowment from the Marshalls, a sponsorship from the National Institute of Building Sciences, and contributions from friends, family and colleagues.
The scholarship was started in 2020, in their memory and in celebration of the distinguished career Mort enjoyed with Betty's support. Mort was the first member of NIBS.
Today, the scholarship promotes diversity in the building sciences and benefits students pursuing a career in architecture and engineering at a historically Black college or university (HBCU).
Last year's recipients were Trajan Baker, an architecture student with Hampton University, and Shergaun Roserie, an engineering student with Howard University.
Scholarship applications now are being accepted through May 2.
NIBS BUILT ENVIRONMENT AWARDS
For nearly three decades, NIBS has recognized outstanding members of the built environment for their service, commitment, and dedication to the nation.
Awards nominations for the 2022 awards season opened April 4, and they will remain open for several weeks.
In 2021, NIBS opened several new awards categories, including NIBS Distinguished Service, NIBS Innovator, Exceptional Woman in Building, Future Leaders, and DEI Leadership.
This year's winners will be announced at Building Innovation 2022 at the Mayflower Hotel in Washington, DC.
BI2022 takes place September 26-28, 2022. For more information about the awards, visit nibs.org/about/awards-and-honors.