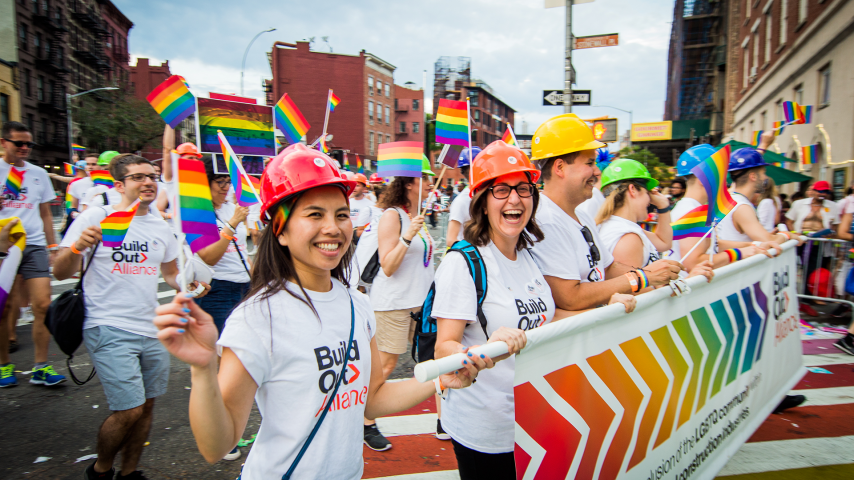 Build Out Alliance: Working Toward a More Inclusive Building Design and Construction Industry
A few years ago, more than a dozen LGBTQ+ members in New York – who also happened to be part of the built environment – saw the need for a space to network and build community.
Unofficially, Build Out Alliance was established in 2017. It was granted official non-profit status in 2018.
Since then, founding members have done their part to spread the word and amass a community of 500 LGBTQ+ members and allies supportive of the group's mission.
Currently, most of the Build Out Alliance community is located in New York. But the organization plans to expand and has its sights set on the West Coast.
"We see architecture and engineering as a space that desperately needs this representation," said Seth Gamble, a founding member of Build Out Alliance and communications director with an engineering firm. "This is a passion project for all of us. We are really working and striving toward a more inclusive building design and construction industry."
Build Out Alliance is 100 percent volunteer-driven.
According to its website, a lot of progress toward greater inclusivity has been made within the building, design, and construction industries over the past decade, but more can be done.
"Research has shown that many lesbian, gay, bisexual, transgender, and queer (LGBTQ) employees aren't comfortable being open about their sexual orientation in the workplace," the site says. "And, homophobic and transphobic slurs and comments continue to remain a greater problem on active construction sites. Many firms have worked to incorporate or improve their own LGBTQ employee resource groups; this is not yet an industry-wide standard practice."
Build Out Alliance seeks to fill this void.
Gamble says the best way for interested parties to stay informed about the group is to sign up for its mailing list. Information about events, networking opportunities, and announcements are distributed through this list. Build Out Alliance also is active on social media (mostly Instagram).
"Pride Month is a nice reminder of the work that we've done – that the community has done over the past several years," Gamble said. "The fight for equality has taken a lot of time, and we're still fighting. It's a reminder that not everyone has the luxury of living out and proud. It doesn't have to be just June, but June gives us the opportunity to reflect and look forward."
(Photo credit: Frank Linderman)