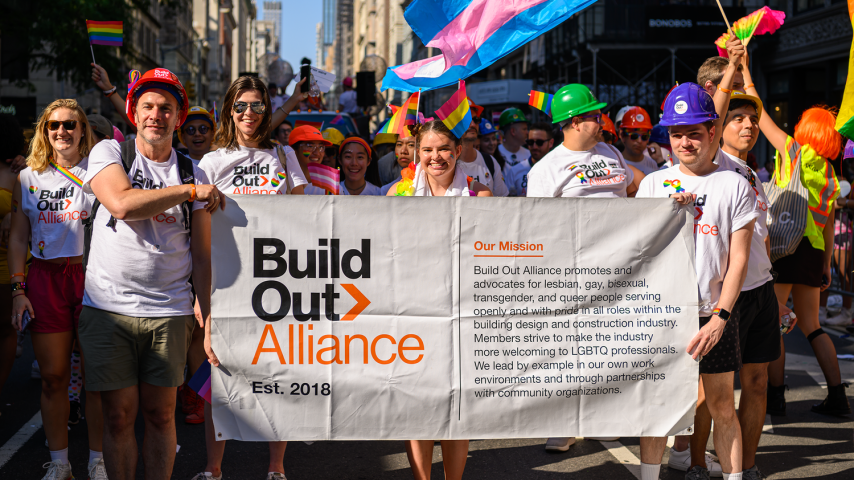 Build Out Alliance Gives LGBTQ+ Community a Place in the Industry
June's Pride Month honors and celebrates the movement for lesbian, gay, bisexual, transgender, and queer (LGBTQ+) rights and culture.
Since 2017, Build Out Alliance has pursued its mission to promote and advocate for the LGBTQ+ community within the building design and construction industry. Build Out Alliance President Andrew Torres, a licensed architect, said there were few groups for LGBTQ+ people in the architecture, engineering, and construction (AEC) professions at the time.
"Build Out Alliance grew out of a need for representation and support," he said.
The organization is completely volunteer-run with its headquarters in New York, and active groups in San Francisco and Los Angeles. It includes participants from across the building, design, and construction industry, from small, local architecture firms to global engineering and construction firms, as well as allied fields like landscape, interiors, and real estate.

Goals, Impact, and Outreach
Founded in New York with just 12 individuals, the organization now includes hundreds of people on both coasts and throughout the country six years later.
Build Out Alliance's main goal is to ensure all members of the LGBTQ+ community in the build design and construction industry can openly serve, and with pride. It is guided by the organization's core initiatives, which inform a plethora of programs and activities.
Interested individuals are encouraged to join one of its six planning committees, which include Community Building, Professional Programming, Outreach and Communications, Special Events, Finance and Fundraising, which charts the financial viability of the organization and partners with sponsors to fuel the organization's growth, and Advocacy.
What's Next for Build Out Alliance
Build Out Alliance hosts a variety of monthly events, including a book club, happy hours, panel discussions, and walking tours. Major annual events include an annual Coming Out Party in October and an annual gala, a new event that will serve as its major fundraising kickoff in late winter/early spring 2024. Learn more about the Build Out Alliance.