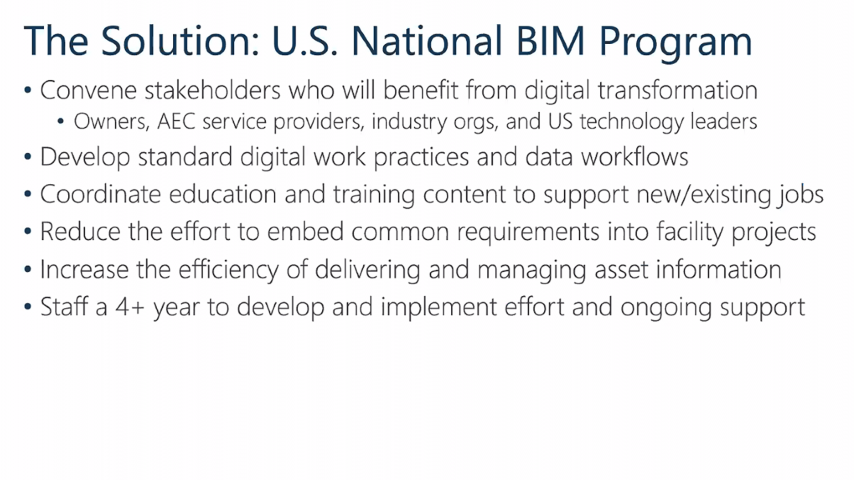 BIM Council Priorities: Partnerships, National BIM Standard–US V4 and the U.S. National BIM Program
When it comes to working out details for the National BIM Standard – United States Version 4, figuring out how it easily can be applied in contracts has become a bit of a mantra.
"NBIMS has always had different chapters," said John Messner, Chair of the U.S. National BIM Standard and professor in the Department of Architectural Engineering at Penn State, during the BIM Council's semi-annual meeting on June 9. "You'll see parts of NBIMS v4 coming out this year. But it'll be much more modular … clear, concise and shovel-ready, so it can be implemented."
NIBS hosted 65 participants on the semi-annual membership meeting.
NIBS CEO Lakisha A. Woods, CAE, talked about the importance of strategic planning and making sure the work of the council and its workgroups connect back to "practice integration, operational excellence, innovation, and research and data."
"We expect this to be at the heart of everything that we do," she said, adding that many groups and organizations have reached out to connect because of NIBS' industry-wide work on BIM.
Building the Framework
The NIBS BIM Council is partnering with several organizations, including the American Association of State Highway and Transportation Officials, Federal Highway Administration, American Society of Heating, Refrigerating and Air-Conditioning Engineers, buildingSMART International, BIMForum, Centre for Digital Built Britain, UK Department for Business, Energy & Industrial Strategy, Global BIM Summit and the Global BIM Network, and FedBIM.
NIBS just completed a memorandum of understanding with BIMForum, said Van Woods, Chair of the BIM Council Board of Direction and BIM Program Manager with the Seattle District U.S. Army Corps of Engineers.
When it comes to the theme of BIM for owners, partnering with ASHRAE has been instrumental. Woods outlined the framework for the U.S. National BIM Program, which starts with the transition of the National BIM Guideline for Owners to a new ASHRAE SPC 224P to the National BIM Standard to ISO 19650.
"ISO 19650 provides a framework," Woods said. "The U.S. needs to define the U.S. details."
Successful project outcomes require practical BIM standards to effectively integrate people, process, and technology, he added.
The U.S. National BIM Program
The mission of the U.S. National BIM Program is to convene industry stakeholders to lead the development and deployment of next-generation national information management standards and practices to improve the delivery and operation of built assets. This will be accomplished through a broad coalition of stakeholders, convened by NIBS, to focus on opportunities to advance the use of BIM.
Why does the U.S. need this program?
While construction comprises 13 percent of the global economy, the U.S. has not achieved the productivity improvements of the digital age, averaging only 1 percent growth in the past 20 years.
Specifically, the U.S. National BIM Program will address the demand for industry efficiency in delivery and operations, demand for more facilities with a declining workforce, and need for significant increase in sustainability and safety.
The U.S. National BIM Program will convene stakeholders who will benefit from digital transformation (namely owners, AEC service providers, industry organizations, and U.S. technology leaders), develop standard digital work practices and data workflows, and coordinate education and training content to support new and existing jobs. It will also reduce the complexity of embedding common requirements into facility and infrastructure projects and increase the efficiency of delivering and managing asset information.
The current activities are focused on developing the launch plan for the U.S. National BIM Program which will be complete in the next four months. Core workstreams include owner adoption, project team implementation, stakeholder engagement, standards development, legal and continuing education of standards.
For more information about the BIM Council and its work, visit nibs.org/bimc.