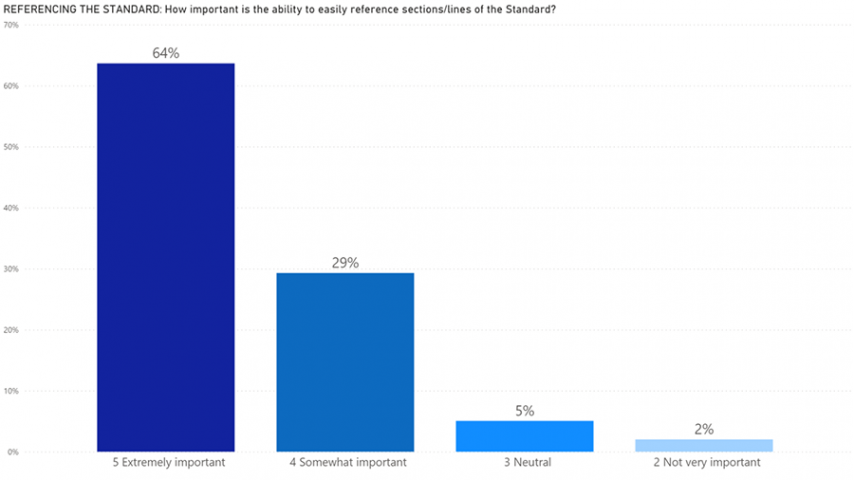 BIM Council: NBIMS v4 Survey Respondents Want an Accessible and Easy-to-Reference Standard
The National Institute of Building Sciences Building Information Management (BIM) Council has released the results of its NBIMS v4 Publishing and Formatting Survey. The survey was distributed to NIBS members and the general public during the month of June 2021.
The main takeaway: Respondents want a National BIM Standard that will be easy to use and accessible.
The ability to easily reference individual sections and lines of the standard was extremely important to 64 percent of respondents. Twenty-nine percent found this somewhat important. The final product of the standard will be created with the ability to reference it line-by-line for accuracy.
Regarding format, 70 percent of respondents found a packaged PDF or web-based product to be equally important. As a result, the product likely will be provided in both a web-based and downloadable PDF format upon final publication.
Finally, mobility did not have a clear consensus. Just 22 percent of respondents found access to the standard from a mobile device to be extremely important. Thirty percent said it was somewhat important, and 28 percent were neutral. Regardless, the final product will be accessible by mobile device as a convenience rather than a requirement.
Other survey highlights: 61 percent of respondents identified the existing National BIM Standard site (NationalBIMStandard.org) as the most likely place to find the standard. Twenty-one percent cited the National Institute of Building Sciences site (nibs.org) as the place they would expect to locate the standard.
The BIM Council leads in the creation of tools and standards that allow projects to be built digitally before they are built physically through the use of building information modeling. For more information about the council visit nibs.org/bimc.