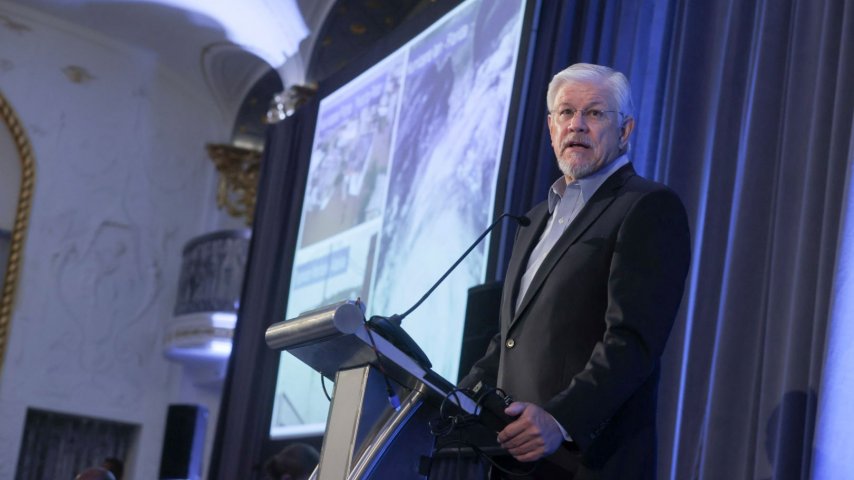 BI2022 Day 2: Hurricane Ian Mobilization, Building Awards, Resilience and Risk Management
The National Institute of Building Sciences wrapped its second day of educational sessions on September 28.
The day began with a breakfast keynote by David Maurstad, Deputy Associate Administrator for Federal Insurance and Mitigation and Senior Executive of the National Flood Insurance Program with the Federal Emergency Management Agency.
Maurstad spoke of the very real impacts that were being felt by then-Hurricane Ian, which has been downgraded to a tropical storm, moving across Florida and leaving more than 2.6 million people without power. According to news reports, Ian is expected to strengthen back into a hurricane before it makes landfall in South Carolina Friday.
Maurstad mentioned that FEMA had prepositioned supplies and personnel in strategic locations in the south, with thousands of reservists and surge capacity force personnel ready to deploy, if needed.
The message: We should expect more frequent and catastrophic events.
"The changing climate doesn't care about our mitigation efforts," he said. "This is the issue of our generation."
Maurstad spoke of the importance of the longstanding, multi-faceted partnership between FEMA and NIBS to meet the evolving needs of the nation.
Hazards Threaten Growth and Prosperity
Hazard-resistant building codes are key to taking a proactive posture with the fight against climate.
"We need to expand the adoption of building codes and make it a standard practice," Maurstad said. "Hazards threaten growth and prosperity. It's obvious we've got a lot of work to do."
Maurstad announced a new tool – a natural hazards needs assessment – with NIBS that addresses hazards, assets, and vulnerability of communities. This kicks off tomorrow, September 30. It will balance involvement and equity and look at roles – what the private and public sectors will play.
"Climate change is an existential threat that we have every reason to believe will increase in gravity and intensity," he said. "FEMA can't do this alone. The stakes are too high."
The goal: To alleviate suffering not only where we can see it today but where we will find it tomorrow.
2022 Built Environment Awards
Following the keynote, NIBS leadership announced the award winners for the 2022 built environment awards.
The award recipients are:
NIBS Distinguished Service – Bryan Koon, Vice President of Homeland Security and Emergency Management, IEM
Exceptional Woman in Building – Cheryl J. Lyman, Executive Director, Ohio Facilities Construction Commission
Future Leaders – Jamie Leigh Price, Mitigation Investment Lead, Federal Emergency Management Agency
NIBS Innovator – Microsoft Silicon Valley Campus
NIBS DEI Leadership – GEI Consultants, Inc.
Mortimer M. Marshall Lifetime Achievement – Philip Schneider, retired
During her acceptance, OFCC's Lyman spoke of the importance of looking at all qualified candidates for positions in the built environment.
"You may not have expected it to come from that direction," she said. "Individuals bring different perspectives. Let's encourage those women who may have a quiet voice and may not have the loudest voice in the room. Listen to them and their stories."
BI2022 Educational Sessions: Day 2
Building Innovation attendees had a handful of educational sessions to choose from on the second day of educational sessions.
These included:
Hazard Resilience & Building Codes in Action: NEHRP, NWIRP & Modern Codes and Standards
Evolving Practices Surrounding Building Enclosure Commissioning, (BECx)
Risk Management in the Built Environment: Resilience as the Antidote to Litigation in a Changing Climate
BETEC Series Session 1: Building Up Building Science in Architecture Programs: The Challenge
In the Risk Management in the Built Environment session, speaker Jessica Mederson, Partner with Stafford Rosenbaum LLP, covered construction litigation and the biggest causes. These include parties failing to understand or comply with their obligations, defects in the project, and delays in completing projects.
What it comes down to, Mederson said: Who's going to bear the risk.
In the same session, speaker Mónika Serrano, Climate Reality Leader and fitwel Ambassador with Turner Construction, said while there's plenty of data to support where things are headed, it's hard to incorporate how building codes and standards are changing.
"Codes aren't updated fast enough," she said. "It takes a lot of work to cover future climate."