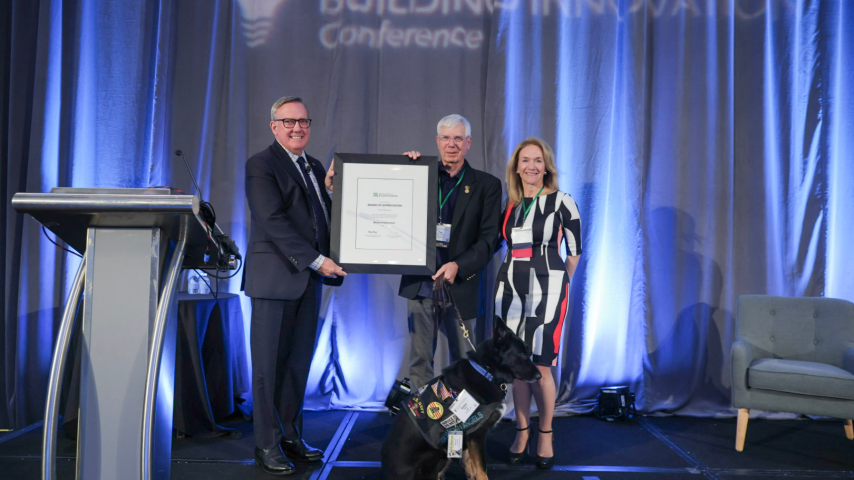 BI2022 Day 1 Highlights: Decarbonization, BIM, Climate Resiliency and Building Codes
Building Innovation 2022 met in-person for the first time since 2019, with a robust lineup of educational sessions, covering a spectrum of built environment hot topics.
Among the highlights: Decarbonization, building information modeling, digital transformation, climate resiliency, mitigation planning, and building codes.
The National Institute of Building Sciences hosted BI2022 at the Mayflower Hotel in Washington, DC. The meeting had 300 registrants.
Kicking off the day was keynote speaker Stacy Smedley, Executive Director with Building Transparency. Smedley said disasters like forest fires, flash floods, and other hazards, while called natural disasters are caused largely by things we consume.
She explained three scopes of carbon emissions – direct/owned, indirect purchased, and other indirect emissions.
"Forty percent of global carbon emissions is from the built environment," Smedley said.
To begin turning this around, she said: "Life is like an onion. You peel it back one layer at a time, and sometimes you weep." The message: This is how you attack carbon.
Decarbonization of the Built Environment
Smedley says requiring environmental product declarations (EFDs) – a third-party verified environmental impact nutrition label for a material/product – would be a key step in the right direction.
"Decarbonization of the built environment requires a system approach," she said, mentioning open access data, standards and structure, transparency in policy, and the support and collaboration of organizations in the building industry. "It's not a what if and how - it's a now. It means requiring product-specific EPDs, setting the target to make reductions, and putting in place reporting mechanisms to show that we made improvements."
Subject matter experts further drove home the impact of carbon emissions related to buildings in a breakout session entitled, Building a Roadmap to a Decarbonized Built Environment: Resources & Recognition Opportunities.
The panel included Ryan Colker, Vice President, Innovation, International Code Council; Luke Leung, Principal, Sustainability Engineering Studio, Skidmore, Owings and Merrill LLC; Mariana Egea-Casalduc, ORISE Science, Technology, and Policy Fellow, U.S. Department of Energy, Building Technologies Office (BTO); and Josh Jacobs, Director of Sustainability, WAP Sustainability.
"Look at your supply chains," said Jacobs. "Where things are actually coming from? Carbon will not change everything, but it will start to make things more understandable."
When it comes to crossover/opportunities, Leung added the importance of a holistic approach: "We have to lower the chaos, while creating order."
Scholarship Award Recipients and Additional Education Sessions
NIBS named two recipients of the Betty and Mort Marshall Memorial Scholarship, which was established to promote diversity in the building sciences and benefit students pursuing a career in architecture and engineering at a historically Black college or university. The scholarship was started in 2020, in memory of the Marshalls. Mort was the first member of the National Institute of Building Sciences.
The 2022 scholarship recipients are Jose Portillo, a civil engineering student with Tennessee State University, and McKenzie Cleveland, an architecture student with Hampton University. Each student will receive $5,000 toward their tuition.
NIBS leadership also recognized retiring board member Paul Bertram, president of consulting firm PRB Connect. Bertram has served the NIBS board since 2016.
Additional sessions that took place on the first day of Building Innovation include:
BIM Provides Fuel for Data-Driven Change at the Department of State
Data and AI in Construction
Design for Resilience and Sustainability: Concrete Protects Life and Resiliency and Zero Energy for Educational Facilities Case Study
BIM Event Series III: Collaborative Digital Delivery in the Age of Information Privacy and Cyber Security
Resilient and Smart Interiors: Protecting Occupant Wellness and Reducing System Construction Costs
Beyond Drawings: Engaging Owners and Users with Digital Twin and Mock-Up Technologies
Landscape of Federal and State Resilience Planning & Policies and the Role of Modern Building Codes and Standards
Keynote: Half, with Kelly Alvarez Doran, Senior Director of Sustainability and Regenerative Design at MASS Design Group and Director of the Ha/f Research Studio at the University of Toronto
Building Innovation Concludes Today
Building Innovation wraps today at noon EST.
Opening the conference will be keynote speaker, David Maurstad, Deputy Associate Administrator for Federal Insurance and Mitigation, Senior Executive of the National Flood Insurance Program, FEMA.
NIBS also will announce the 2022 recipients of the built environment awards. View the Building Innovation schedule for full details.