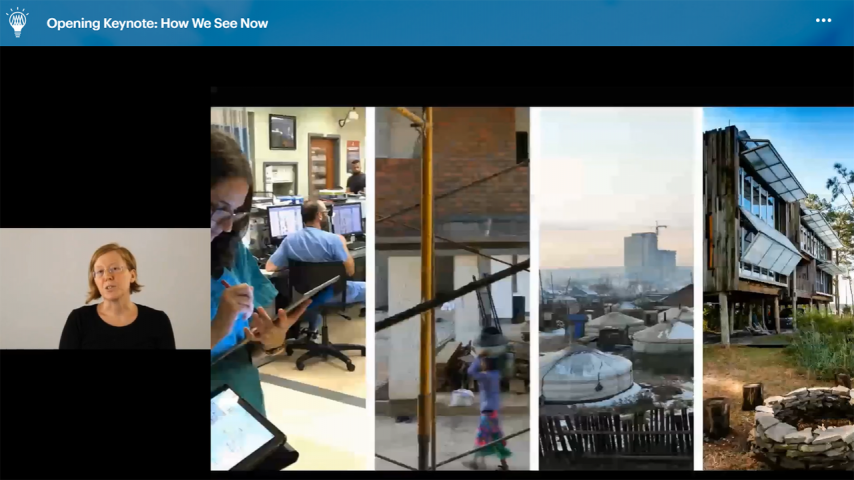 BI2020 Day 2: Resilience, Mitigation and Technology Keep the Building Industry Moving Forward
Building professionals and officials from across the industry met virtually to close out the second day of Building Innovation 2020 on August 19.
The National Institute of Building Sciences received more than 1,000 registrants to the annual meeting, hosting representatives from 45 countries worldwide.
Day 2 of the meeting kicked offwith Billie Faircloth, partner with KieranTimberlake, whose opening Resilience keynote, How We See Now, covered adaptive architecture, building types, design strategies, and several case studies.
The afternoon was peppered with more educational sessions on a national BIM standard and roadmap, mitigation, housing affordability, workforce development, and diversity and inclusion.
Drs. Perry Daneshgari, president and CEO of MCA, Inc. and Heather Moore, vice president of operations with MCA, Inc., presented on the Workforce of the Future: Using Data to Advance Industrialization of Construction.
The team painted a picture about construction today: Industrial dropped from 50 percent to 30 percent in a decade. Consumers are looking for faster, cheaper construction.
Processes for managing work to improve productivity include agile construction (to detect and quickly respond to issues), job productivity assurance and control, and analysis around scheduled work.
How to Pay for Mitigation
A four-person panel tackled the very complex issue of how to pay for mitigation. The panel featured Kayed I. Lakhia, director of Hazard Mitigation with FEMA/DHS; Sean Kevelighan, president and CEO of the Insurance Information Institute; Michael Hernandez, vice president of housing access with the Affordable Housing Initiatives of Fannie Mae; and Carl Hedde, principal with CGH Consulting, LLC and NIBS chair.
Kevelighan mentioned a host of action partners and tools to help change behavior and move toward a "resilience movement."
"We want businesses and communities to think about risk and management as a top-of-mind exercise all the time," he said, adding that there were tools that could be used to be more dynamic and interactive with customers and business programs.
During the presentation, Hedde announced the release of a new NIBS resource by the Multi-Hazard Mitigation Council sub-committee on Finance, Insurance, and Real Estate: A Roadmap to Resilience Incentivization. The report proposes to develop and demonstrate a set of public and private incentives to owners of buildings and other infrastructure to facilitate the upgrade of existing infrastructure and better design of new infrastructure.
Lakhia also announced that FEMA plans to allocate more funds for mitigation efforts through its Building Resilient Infrastructure and Communities (BRIC) program. BRIC replaces the organization's pre-disaster mitigation grant program.
Using Modular Construction to Tackle Affordable Housing Supply Crisis
Libby O'Neill, a Multifamily Affordable Product research analyst with Fannie Mae, presented a session on Modular Multifamily Housing as an Affordable Supply Strategy.
Fannie Mae defines multifamily as rentals with five or more residential units.
According to O'Neill, some of the housing development cost drivers include development costs like market forces (land, labor and materials), regulation and financing costs, and hard construction costs, which comprise 65 percent to 73 percent of total development costs.
"We need a variety of solutions to address this crisis," she said.
Some of the advantages of modular construction include a reduced development timeline, quality control, safety, cost savings and cost certainty, sustainability, and productivity.
Says O'Neill: "With modular construction, many have recognized this as one potential solution to the housing affordability crisis … One of the benefits is time savings. We can get more units built in less time."
Improving Construction Safety to Recruit a Stronger and More Diverse Workforce
The closing Workforce keynote on Day 2 was given by Nancy Novak, chief innovation officer with Compass Datacenters, and Doug Mouton, general manager of Global Datacenter Procurement & Construction with Microsoft. The two discussed construction safety and how it leads to stronger recruiting and a more competitive environment.
"To get safety right, you've got to be a good planner," Mouton said, adding that there's a discernible pattern that projects with excellence in safety also improve in quality, schedule, and cost.
Novak said unhealthy behaviors can evolve to create to create a toxic work environment.
"Sometimes the hard conversations need to happen for meaningful change," she said.
Some calls to action include creating a safe environment on sites for all workers, leadership must embrace the obligation to maintain safe and inclusive work sites, and intentional hiring and development of diverse talent.
Registration is now open for the next COVID-19 virtual town hall on healthy buildings and how they affect public health. Join us August 25! Visit nibs.org for more information. Are you on social media? Connect with us! We're @bldgsciences