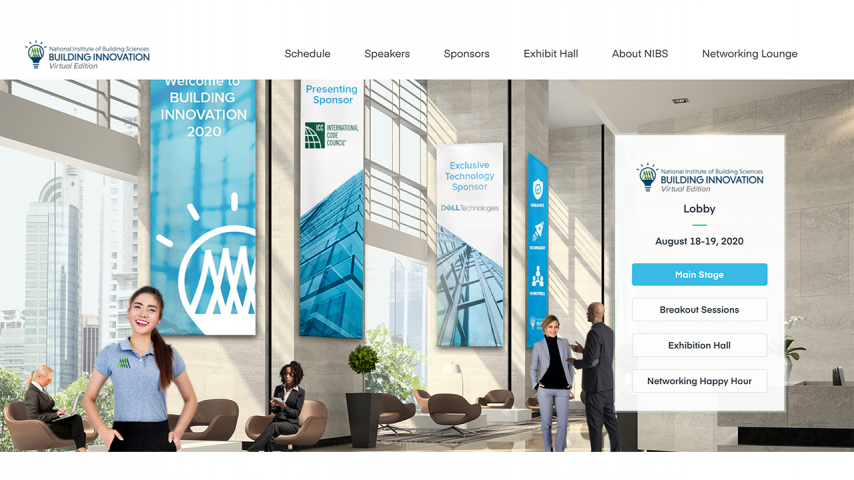 BI2020 Day 1: Built Environment Shows Its Strength at Building Innovation Conference
The first day of the Building Innovation 2020: Virtual Edition conference kicked off strong with more than 1,000 registrants.
National Institute of Building Sciences CEO Lakisha A. Woods, CAE, opened the show August 18 with some encouraging words about the built environment and NIBS' position as a convener of individuals and organizations across the building industry.
"Choosing to be a convener is no longer just a nice to have," Woods said. "It's an essential action not only for a healthy economy, but also a healthy citizen. Strong relationships and the pursuit of knowledge are powerful currency. [They] fund our humanity, our togetherness, and our future."
The rest of the first day of BI2020 was filled with educational sessions that covered a wide range of resilience, technology, and workforce material. These include extending virtual design and construction for facilities management, opportunities and training for green jobs, and zero energy, which looked closely a case study in Florida of its first zero-energy school. This school is expected to save the school district of Osceola County, Florida over $115,000 annually on energy costs and was constructed within the state-mandated budget.
3D Printed Homes for Affordable and Resilient Housing
In his opening Technology keynote, Evan Loomis, co-founder and chairman of Austin-based ICON, shared some startling facts about housing.
"With home construction, more often there's more waste than house," he said, about the need for sustainable construction. "Over one billion humans don't have adequate housing. This is a crisis."
Says Loomis: "We've been building homes the same way for 1,000 years. The future is 3D printed."
Home prices also are skyrocketing, he pointed out, which "brings a lot of pain to the average American."
So imagine if one could download and 3D print a home in 24 hours for half the cost. Maybe you could print 1,000 homes in a row, and they all could be different with just a small tweak in the design. And aside from the actual printer, the only other tool you'd need is your iPhone to manage the project.
3D printing involves near zero material waste. The total energy required for 3D printing, including production, transport, and installation of materials, is much less than for conventional wood or concrete construction, Loomis says.
"We will further advance sustainability by incorporating recycled materials and other ingredients into our concrete mixes that lock up carbon dioxide and reduce energy input even more," he said. "Materials science is one of the most exciting frontiers for us at ICON so we can continue to drive down costs and increase sustainability over time."
Convergence of Design and Resilience in a Hospital
A three-person team broke down the innovation and design behind the new Stanford Hospital in Palo Alto, California. The hospital features a host of state-of-the-art elements and reflects how resiliency is integrated with technology, sustainability, long-term adaptability, and design vision.
The panel included Judy Ou, associate principal with Perkins Eastman Architects, Carlos L. Amato, principal with CannonDesign, and Robin Whitehurst, technical principal with Bailey Edward Design, Inc.
The Stanford Hospital includes cutting-edge architecture, a 40,000-square-foot rooftop garden, LEED Silver-equivalent sustainability features, patient-centric design details, hospitality-infused furnishings, and sculptures, paintings, and commissioned installations by world-class artists.
One component of the project – the simulation lab – received its inspiration from a theater with a "center stage" and support spaces on the wings.
"Medicine is art," Whitehurst said. "The intent of this [project] is to elevate that artform."
And in today's COVID-19 environment, systems like HVAC must be intelligent, the panel said. Modularity is key, and the networks are extensive.
"On the New Stanford Hospital, we have double-stacked air handling units, one set of which is a backup," Ou explained. "Also, patient pods can draw air from other the HVAC units of other pods if their respective one needs to be shut down."
NIBS Awards Honors Lifetime Achievement and Two HBCU Students
The afternoon of Day 1 closed with an awards ceremony, honoring architect Stephen T. Ayers, FAIA, LEED AP, who served as the 11th Architect of the Capitol.
Ayers was awarded NIBS' highest honor – the Mortimer M. Marshall Lifetime Achievement Award. The award is always given to a person who has demonstrated a lifetime of dedication to the mission and goals of NIBS. The award is named after our very first member; it was established in 2011.
Also, two students of architecture and engineering studying at a historically black college or university (HBCU) were honored with scholarships.
The Betty and Mort Marshall Memorial Scholarship Fund was established to promote diversity in the building sciences. The winners were Jenna Greer, an architecture student at Howard University, and Tanaka Chakanyuka, a civil engineering student at Southern University.
Chakanyuka said she believes engineering can make the world a better place.
"With the depletion of resources and pollution to the planet, I believe responsible engineering will help secure the planet for future generations," she said.
The Courage and Genius of Sustainability
Closing the conference was George Bandy Jr., who serves as a global leader for corporate social responsibility and sustainability. Bandy also served as the former chairman of the U.S. Green Building Council.
Bandy discussed the genius of living buildings – essentially, a program that took someone "taking a risk that wasn't done before."
"Courage requires us to take risks," he said.
Also, for the first time, there are more people living in cities than do not. Millennials and Generation Z also value work/life balance over financial reward.
What does this mean for building and construction? How do we become relevant for customers?
The spaces where people experience the best success are not in cubicles with no light or plants, he said.
"Different kinds of work require different kinds of spaces," Bandy said.
Have you tuned into BI2020? Attendees have access to the recorded sessions for 60 days. Also, connect with us on social! We're @bldgsciences on Twitter, or you can find us on Facebook.