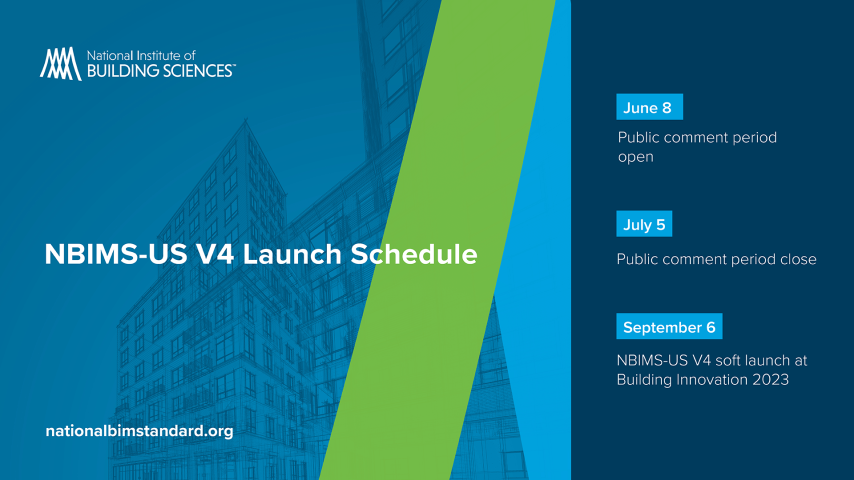 Ballot Comment Period Now Open for the NBIMS-US Project Committee
The National BIM Standard – United States® (NBIMS-US™) Public Review (PR) and Project Committee (PC) Ballot Comment Period are open.
During this period, anyone can comment on the ballots; however, voting is reserved for PC members. Comments will be accepted through July 5, 2023.
Comments submitted during the ballot comment period will be discussed and resolved during two virtual NBIMS PC comment resolution meetings on July 6, 2023 and July 13, 2023. Following the meetings, NBIMS PC members will be asked to vote on the final NBIMS V4 candidate standard modules. The NBIMS-US™ V4 release is planned for the fall.
The NBIMS PC ballot voting period will commence on August 7, 2023, and remain open until September 3, 2023. The results of the PC vote will be certified by the PLC and announced during Building Innovation in September.
Here's a list of what's coming up:
June 8-July 5: Open NBIMS PC and PR draft ballot comments period
July 6 & July 13: NBIMS PC & PR comment resolution meeting
July 27-August 4: NBIMS PLC to review and approve final draft ballots
August 7-Sept. 3: Final NBIMS PC ballot voting period
September 5: NBIMS PLC certifies the results of the ballots
September 6-7: NBIMS PLC presents NBIMS-US V4 content at Building Innovation 2023
NIBS thanks all the volunteers, who tirelessly have worked to make this version of NBIMS-US™ a reality.