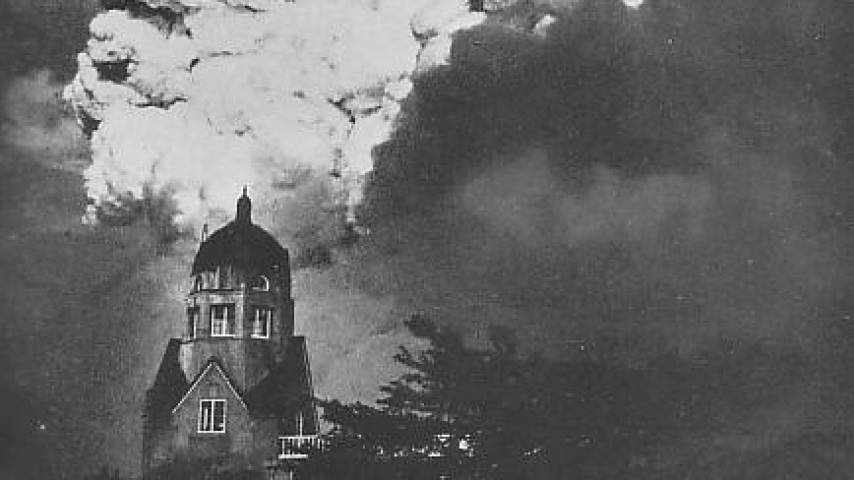 100 Years of Inspiration from Japan's 1923 Earthquake
On September 1, 1923, Japan was ravaged by the Great Kanto Earthquake.
Within minutes after the magnitude 7.9 subduction zone earthquake, a 33-foot tsunami flooded the nearest coastal areas. A large landslide crushed the entire village of Nebukawa. Fires seemingly ignited everywhere; some grew into huge firestorms. While fire fighting was hampered by broken water pipes, a typhoon brought in winds that further spread the flames.
Over 140,000 people perished in the disaster—mostly from fires but also from earthquake destruction, coastal tsunami flooding, and massive landslides. Tokyo suffered extensive damage. Within hours, almost two million people became houseless. Tragically, riots broke out, and mobs killed many thousands more.
Since 1960, September 1 has been designated as Japan's official Disaster Prevention Day to commemorate the 1923 earthquake. School children across Japan recognize the victims with a moment of silence and all are reminded to prepare for disasters.
Over the past 100 years, Japan has become the world's most advanced country, in terms of earthquake preparedness. Nevertheless, the 2011 Fukushima subduction zone earthquake and tsunami still resulted in over 16,000 fatalities—a figure that would have been much higher without Japan's high level of preparedness.
Future Disasters on U.S. Soil
One hundred years later and from across the Pacific Ocean, the U.S. faces fierce natural disasters— hurricanes, wildfires, flooding, winter storms, heat and drought.
One of the most serious disasters in our future is the inevitable magnitude 9 Cascadia subduction zone earthquake and tsunami. The Cascadia earthquake will be geologically similar to Japan's 1923 and 2011 earthquakes and similarly will result in substantial destruction and casualties.
Much of the infrastructure in the Pacific Northwest was built with inadequate seismic provisions and has gaping seismic deficiencies. Consequently, thousands of buildings and bridges will be destroyed in a Cascadia earthquake.
Our lifeline systems—water, electrical power, fuels, communications and transportation—will suffer widespread damage and lengthy outages for weeks to months. Emergency response services will be overwhelmed and largely unavailable.
Planning for the Inevitable
Will the Pacific Northwest wait until it suffers a catastrophic earthquake disaster like the one in Japan 100 years ago? Or, will we learn from Japan's experience, and proactively build a culture of preparedness to undertake the preventive actions that would certainly save countless lives when the Cascadia "big one" hits?
To reduce the frequency and intensity of disasters that our nation is experiencing, we must take inspiration from Japan's sophisticated disaster prevention methods. In recognition of our annual U.S. Preparedness Month that takes place every September, we invite you to get involved with the National Institute of Building Sciences with the new Lifeline Infrastructure Hub to address lifeline system deficiencies in communities across the nation.
Learn about NIBS' lead coordination role to encourage soundly engineered infrastructure in advance of disasters—in particular our vital lifeline systems. We look forward to hearing from you!
Yumei Wang is Special Advisor to NIBS on the Lifeline Infrastructure Hub and Senior Advisor on Infrastructure Resilience and Risk at Portland State University. (Photo: Firestorm clouds caused by the 1923 Great Kanto earthquake, File:Clouds of conflagration caused by Great Kanto earthquake.JPG - Wikimedia Commons)