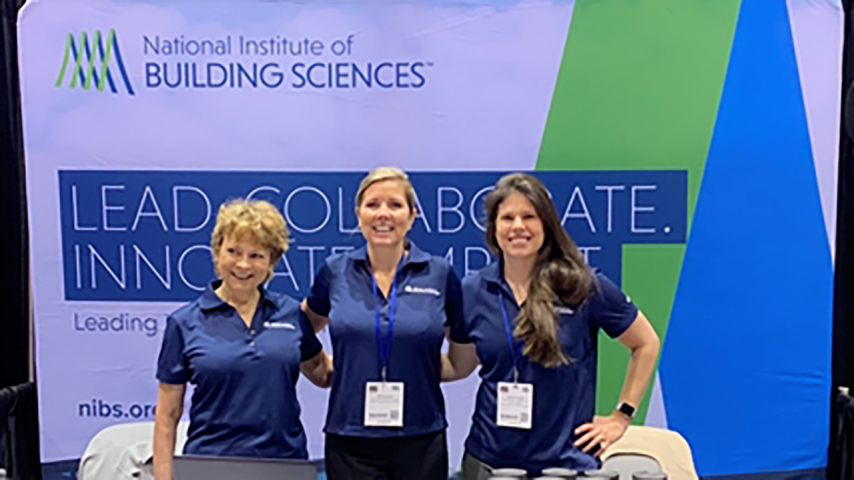 Windy City's Building Conference Attracts Thousands From Within the Built Environment
Chicago sure made an impression.
The National Institute of Building Sciences sent a small team to the Chicago Build Conference and Expo Sept. 19 and 20, at the McCormick Place Convention Center.
After setting up our booth (No. 755), our marketing, sales and technical staff were swamped in the best possible way.
We were greeted with high energy, and our booth saw tons of traffic. NIBS' staff met with a variety of architects, designers, real estate professionals, and engineers. We promoted the value NIBS membership, including being able to participate on any or all the organization's councils. These councils include the Building Enclosure Technology and Environment Council, Building Seismic Safety Council, buildingSMART alliance, Commercial Workforce Credentialing Council, Multihazard Mitigation Council, and Off-Site Construction Council.
We also promoted attendance and sponsorship opportunities for our upcoming annual meeting: Building Innovation 2020. BI2020 takes place in the spring, right around cherry blossom time in Washington, DC.
There was so much interest.
The conversations we had were very engaging and energized. Let's hope we were able to recruit new members, sponsors, and attendees to our annual conference.
Chicago Build was the first event of its kind for the Windy City, but the BUILD series has grown in recognition from hosting other events in New York, London, and Sydney, Australia.
For more information about NIBS membership, Kristen Petersen, KPetersen@nibs.org. And if you'd like to talk about sponsoring Building Innovation 2020, please contact me — Sarah Swango, SSwango@nibs.org.