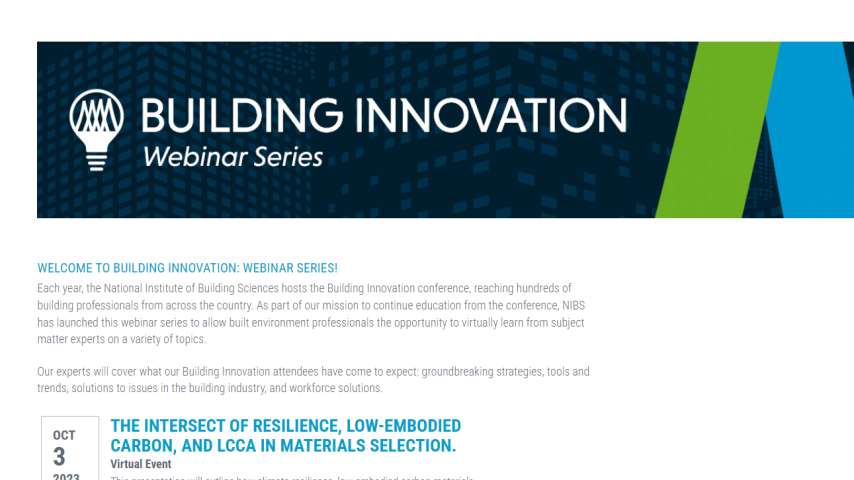 NIBS Opens Up Building Innovation Webinar Series
Every year, hundreds of built environment professionals descend upon Washington, DC, to attend the Building Innovation conference of the National Institute of Building Sciences.
As part of our mission to continue conference education, NIBS has launched a new webinar series to reach even more professionals on new technology, trends, groundbreaking tools, best practices, and workforce solutions.
It's our way of extending Building Innovation beyond the in-person meeting.
Webinar recordings permanently will live in this space, allowing built environment professionals access to virtually learn from subject matter experts on a variety of topics.
ICYMI in October, experts discussed the Intersection of Resilience, Low-Embodied Carbon, and Life-Cycle Cost Analysis (LCCA) in Materials Selection.
Presenters included Vicki Worden, President & CEO, Green Building Initiative; Mark Russell, Founding Partner, Wise Built, LLC; Jenna Morgan Hamilton, Vice President, National Affairs, Green Building Initiative; and Adolfo Salas III, Sustainability Commissioning Lead.
The presentation outlined how climate resilience, low-embodied carbon materials objectives and LCCA intersect, while providing separate important data points in the evaluation of materials for client projects. The panelists' significant experience on federal and private sector projects provided valuable lessons learned to improve the sustainability impact and performance of all buildings.
What's Coming Up
On November 9, NIBS National BIM Program Executive Director Johnny Fortune will discuss Accelerating Digital Transformation with the U.S. National BIM Program.
The U.S. built environment has yet to realize the full benefits of digital transformation.
NIBS is leading the development and dissemination of next-generation practice standards and processes for the built environment. The U.S. National BIM Program will provide a step-change in capacity, creating a platform and community to support the next phase of digital innovation.
In this session, Fortune will outline the program framework, including core values and goals as well as the industry workgroups identified to achieve success. We'll also explore the five-year plan for the program (past, present, and future), the purpose of the workstreams, and the connection to specific stakeholder groups. Register now for Fortune's upcoming webinar.
On November 28, our subject matter experts will talk about Cyber-Physical Impact Modeling.
The risk profile of current and emerging cyber threats to commercial and institutional building sites cannot be overstated. Sites include critical utilities, such electric, water and waste management, hospitals, nursing homes, schools, airports, stadiums, office buildings, prisons, and courts. Protecting these sites from bad actions or errors from employees can minimize outside takeover of operational systems, and risk to loss of life, personal injury, and harm to the environment.
Webinar attendees will begin to understand the need for a trusted cyber-physical framework for scoring the risk profile to protect building management systems and reduce risks to life, safety, and health for protection of employees and visitors.
Session speakers will include the Hon. Lucian Niemeyer, CEO & Board Chairman, Building Cyber Security; Andrew Balster, President, Physical Space Practice, Geniant; EJ Von Schaumburg, Co-CEO, Red Bison; and Fred Gordy, Smart Building Industry Expert and Cybersecurity Practitioner. The webinar will be moderated by Ari Reubin, Senior Vice President of KMC Consulting, a division of KMC Controls, Inc. Register now for the CIM webinar.