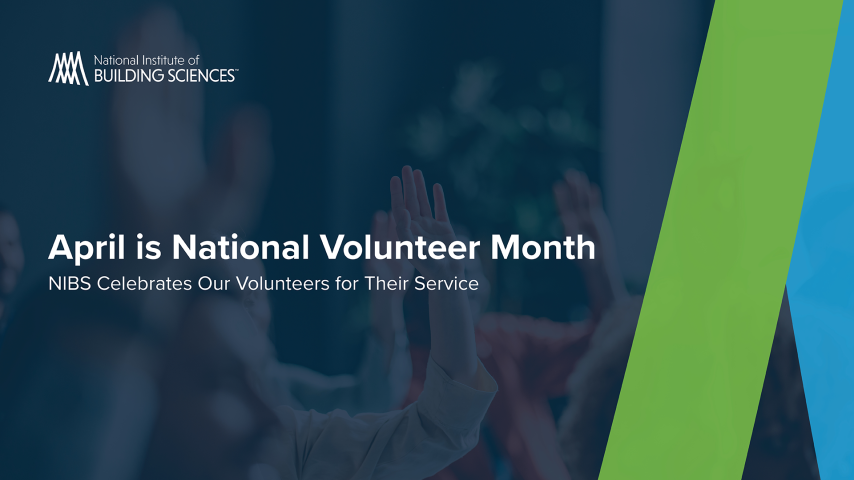 Celebrating NIBS Volunteers During April's National Volunteer Month
April is National Volunteer Month, and NIBS spoke with some of the volunteers who are helping to make a difference in the advancement of building sciences.
A Passion to Align Two Sectors
Scott McClure has worked in the built industry for roughly 15 years. He began as a U.S. Air Force Projects and Programs Manager at the installation level; this month he shifted his career into policy in a new position as an Enterprise Architect with Image Matters, LLC.
He volunteers with NIBS' BIM Digital Twin Integration Subcommittee, which mission is twofold: to define the role of and develop the relationship between digital twins and the U.S. National Building Information Management (BIM) Program and National BIM Standard – United States® (NBIMS-US™) and to coordinate with authoritative organizations and consortia in BIM and digital twin integration efforts.
McClure's decision to volunteer as chair of the subcommittee sprung from a desire to bridge a gap between two sectors of the built industry.
"It was a clear strategic path towards aligning private and public sectors," he said. "I've come to see that contract language is a prime coupler between the two, and having an impact on the standards underpinning that language means having an impact on how industry and government align."
Specifically, he hopes to have a positive impact working with the BIM Council to improve installation practices through policy-level optimizations, by aligning government and industry. He believes it can make a difference in the lives of federal workers.
"It's the type of improvement that would help taxpayers and community members be proud of their system," he said.
The Importance of Knowledge Exchange
Keith Simon, Principal, Building Enclosures Practice Lead with Terracon, is the Secretary of the NIBS Building Enclosure Technology and Environment Council (BETEC), which encourages optimum performance of buildings, understanding how complex building components interact with each other and the environment.
Simon has worked in the built industry nearly 20 years, first in architecture offices. He switched his focus to building enclosures consulting and has also worked as an adjunct college instructor at the University of Texas' School of Architecture for over 12 years. His switch to the building enclosure side came from his interest in the details: water, vapor, heat and air, which lines up with the purpose of BETEC to share knowledge and integrate technical programs on the thermal performance of building envelopes.
Simon found a lack of knowledge in this specific area in building enclosures and wanted to make a difference. He's also very passionate about improving the industry – which explains his volunteer work with almost 10 built environment organizations. He chose to work with BETEC because he sees actual results being made.
"I've been on other national boards that didn't do anything – just talked," he said. "BETEC actually gets things done, and it has therefore been a real pleasure to serve on its executive committee."
He has served as BETEC's secretary for two years. When asked what he hopes to bring to BETEC, Simon says that he would like to see BETEC help improve building science education.
"It's all about knowledge exchange," he says. "Our building industry has major challenges ahead in terms of knowledge exchange and improving building performance and sustainability. NIBS/BETEC is well positioned to try and address some of these problems."
Solving Problems From Planning to Development
Grace Wang, Senior Technical Program Manager, Digital Technology with Google, not only is a seasoned BIM practitioner; she also graciously gives her time and expertise to the NIBS BIM Council.
Wang has worked in the built environment for 18 years, 16 of which have been in the United States. She began volunteering with NIBS in 2012, working with the buildingSMART alliance COBie Task Group. She was able to see how BIM technology began to mature and was excited to work with other top industry experts in the industry, as it was an early stage of her career. She was looking for solutions like COBie, which she believes to be very promising.
In 2022, Wang began working on the planning phase workstreams and was asked to help in the development phase, beginning her leadership role within the U.S. National BIM Program to manage the leadership workstream. When asked what influenced her decision to volunteer with NIBS, Wang said that she hopes to help "solve mutual problems of concerns."
"The process from 2D to 3D is disrupting a lot of the BIM processes we're using," Wang said. "No one individual can solve the problem until we all work together."