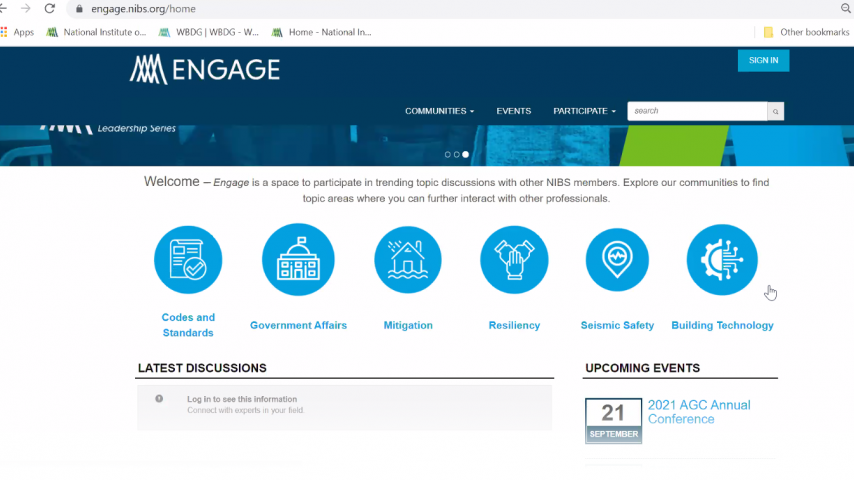 BETEC, BECs Explore ENGAGE Information Exchange, Building Science Education, Strengthening Local and National Communities
Representatives from the Building Enclosure Technology and Environment Council (BETEC) and its local component Building Enclosure Councils (BECs) assembled via Zoom for their annual meeting on September 21.  Under the leadership of BETEC President Stephen Shanks, the group explored the new NIBS communications platform, ENGAGE and exchanged ideas on how it could be useful for sharing speakers' lists, important new research, and upcoming events, as well as for a networking platform.
Given the increasing urgency placed by climate change, resiliency, and energy use on building enclosure, BETEC members stressed a need to ramp up efforts to rebuild their Education Committee to inject more building science education into higher education programs. Guest speaker Drake Wauters, representing the AIA's Building Performance Knowledge Community, broached the notion of BETEC and AIA working together to present this urgency to the National Architectural Accrediting Board. BETEC member participants agreed to pursue this idea.
The BECs portion of the meeting, led by BECs-National Chair Will Babbington, demonstrated how, as COVID-19 fears and restrictions have reigned for the past 18 months, many local BECs have demonstrated their own brand of resilience and ingenuity in keeping their councils up and running. Although they  report a ubiquitous case of "Zoom Fatigue" for virtual meetings, many BEC reps acknowledge their broader audience, increase availability of speakers, convenience, and economy.  Some chapters, such as BEC Greater Detroit, have been able to host an in-person ball game and are looking forward to an outside Fall gathering, while others, such as AIA Portland, remain tied to virtual meetings because of local restrictions. All agree, though, that virtual components to events will continue to play a part regardless of venue.
As they move forward, BETEC members and BECs members also will work together in an exploratory committee to re-imagine a BEST6 (Building Enclosure Science & Technology) conference for the Spring of 2023. All NIBS members are welcome to join BETEC as part of their membership share in these efforts.