U.S. National Building Information Management (BIM) Program
The National Institute of Building Sciences (NIBS) initiated the U.S. National BIM Program (NBP or Program) to bring industry stakeholders together to achieve critical digital transformation throughout the entire lifecycle of designing, constructing, and operating the built environment. The Program concept has evolved through conversations and collaborations with leading organizations and communities, involving both the public and private sectors, spanning a diverse cross-section of asset/project types. This effort has recently accelerated combined with significant increases in interest from the owner community throughout the U.S., including both building and infrastructure owners.
Vision
To accelerate the digital transformation of the built asset industry to achieve optimal economical, environmental, and functional performance of U.S. built environment
Mission
To transform lifecycle information management practices by creating and advancing the consistent adoption of next-generation information management standards and practices to significantly improve the built environment delivery and operations processes.
Take the Next Steps
LEARN ABOUT OUR PROGRAM AND BE PART OF THE COMMUNITY ADVANCING TECHNOLOGY IN OUR BUILDING INDUSTRY.
The foundation of the U.S. economy and society relies upon having a high-quality and resilient built environment, including the infrastructure people use and buildings that support their daily activities. Information is the lifeblood that supports the delivery and operations of built assets. Unfortunately, the consistent creation and use of information throughout the built asset industry has traditionally relied upon paper or unstructured digital documentation.
While the U.S. has been one of the clear global leaders in the development and implementation of Building Information Modeling (BIM) computer applications to support the overall design and construction of built assets, the transition to full adoption is slow and industry is widely known to lack digital maturity.
To address the significant "information deficit" and achieve a new level of efficiency, the industry must be digitally transformed.
The U.S. National BIM Program outlines a collaborative approach to develop and deploy implementation resources, advanced digital standards, and the social and legal foundation to support adoption in the U.S., aligned with and learning from the lessons of global approaches.
The Program will be guided by the following Core Values:
| | | | |
| --- | --- | --- | --- |
| | Inclusive: Involve a broad range of key stakeholders | | Aligned: Limit rework through coordination with key stakeholders |
| | Open: Require open digital standards | | Practice Oriented: Focus on ability to implement now and in the future |
| | Collaborative: Share experience and expertise | | Reliable: Standards provide the foundation for commitments and contracts |
The development, adoption, and implementation of common BIM standards within the U.S. will:
Allow owners to build and renovate more buildings, bridges and roads with less money by enhancing the efficiency of design, construction and asset operation.
Accelerate delivery, manage costs, and increase through information standards and protocols shared across the supply chain.
Build on U.S. leadership in AECO technology development to enable the next generation of building technology.
Strengthen U.S. industry access to global markets with U.S. standards compatible with worldwide programs.
Integrate buildings, lifelines and infrastructure for seamless management of the built environment to improve safety, security, resilience and sustainability.
Expand innovation in the development of new digital solutions and practices throughout the AECO industry.
The goals of the Program are centered around six core themes:
Support Owner Adoption
Support the development, collection, management, use and sharing of information models for asset owners
Improve Project Delivery
Enable all key stakeholders to significantly improve the project delivery process and facility performance by adopting BIM
Build Next Generation Standards
Develop next generation process and information BIM standards to a level of implementation that can be validated for contractual compliance along with deployment guidance and resource
Build Communities
Build a community that represents all key stakeholders to develop, promote and adopt leading practices for BIM implementation in collaboration with partner organizations
Create Legal Framework
Create the legal and insurance framework(s) to support adoption including a focus towards using the model content for project commitments and contracts
Educate and Train
Create education, training and certification programs in collaboration with partner organizations to support the evolving workforce demands
The Program goals translated to the development of six core Workstreams:
Owner Leadership: Engaging project stakeholders to expand the owner adoption and implementation of BIM, setting consistent BIM requirements, and obtaining quality information from project delivery to support the operations and maintenance of assets.
Project Delivery: Consistent application and delivery of BIM by AEC Practitioners and Technology, Fabrication, and Manufacturing Vendors across the Supply Chain.
Standards and Guidelines: Adapting and extending detailed BIM industry standards for Building and Civil Asset/Facility Owners.
Stakeholder Engagement: Coordination of industry communities that are dispersed across various siloed organization to identify and support activities, including a clear definition of the business case and roadmap.
Education and Training: Define cohesive lifecycle BIM education and training program for owners, project teams, and users.
Legal and Insurance: Clear, consistent approach to incorporate BIM deliverables into contracts for delivery of products and services
To get involved, contact us at usbimprogram@nibs.org.
The structure of the U.S. National BIM Program integrates the deliverables from the 6 core Workstreams into a roadmap focused on:
Year 1: Building the Foundation
Year 2 and 3: Early Wins
Year 4 and 5: Advanced Transformation
Beyond Year 5: Embedded Change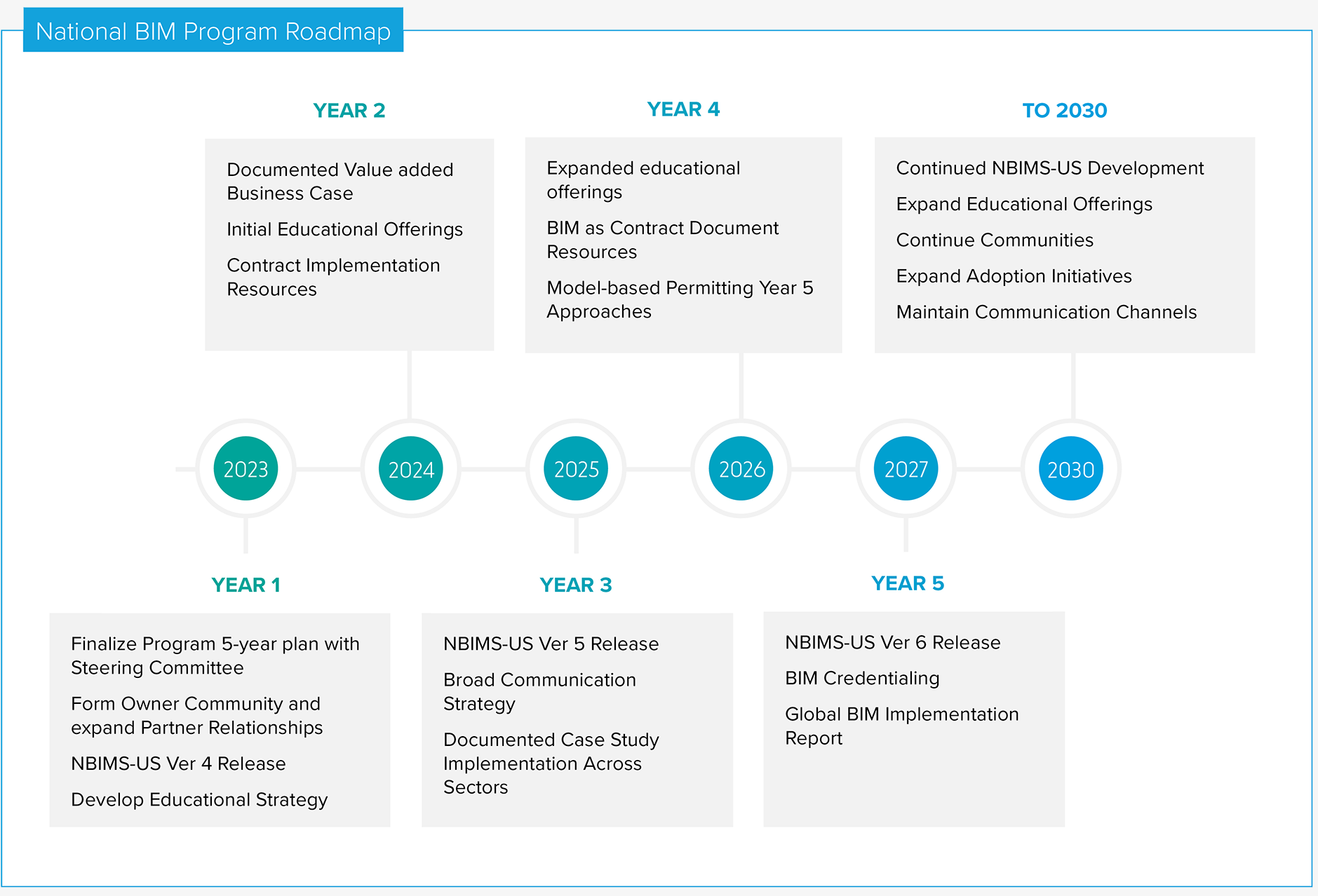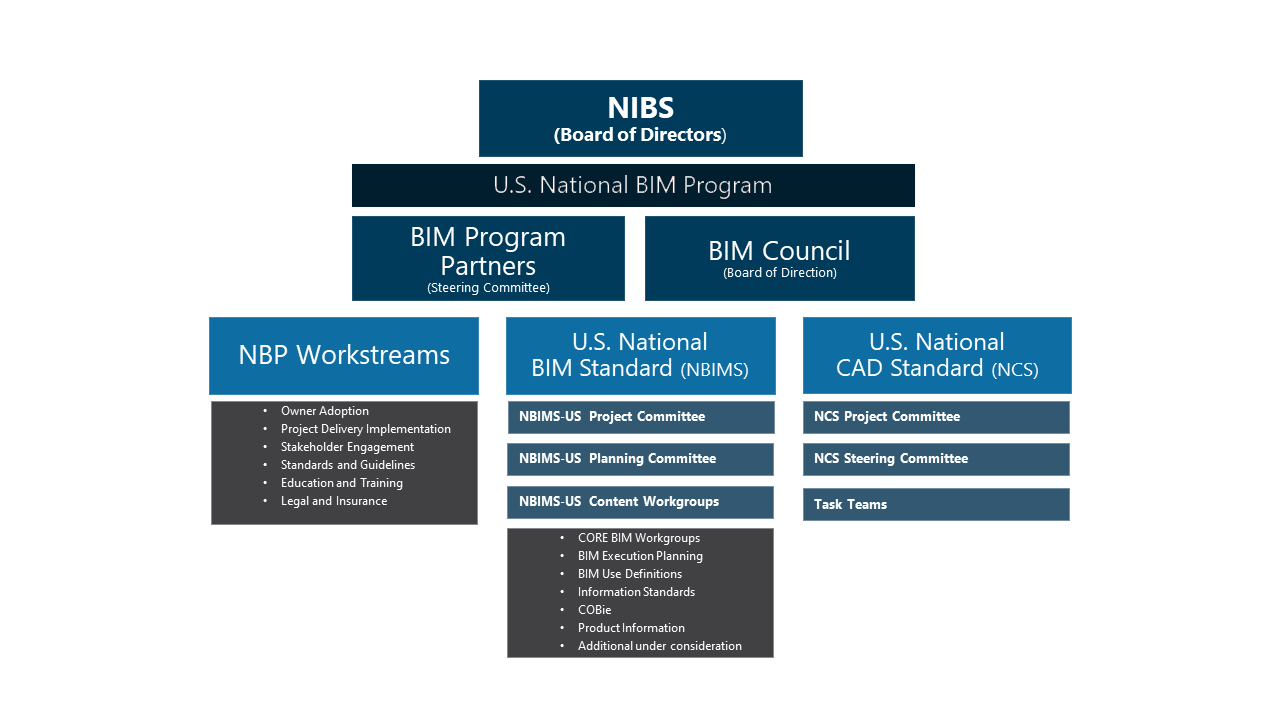 BIM Steering Committee (current as of 8.2022)
Salla Eckhardt, Chair, Microsoft
Paul Audsley, NBBJ
Luciana Burdi, Massachusetts Port Authority
Jason Fairchild, U.S. Army Corps of Engineers
Charles G. Hardy, U.S. General Services Administration, Public Building Service
Michael Kennerly, Iowa Department of Transportation
Hannu Lindberg, DPR Construction
Jagannath Mallela, WSP
Russ Manning, International Code Council
Katherine Petros, Office of Infrastructure Research and Development, Federal Highway Administration
Ivan Panushev, Amazon Web Services
Will Sharp, HDR
Grace Wang, Google
Workstream Planning Leads
Owner Leadership: Grace Wang, Google
Project Delivery Implementation: Rachel Riopel, HDR
Stakeholder Engagement: Johnny Fortune, Prime AE
Standards and Guidelines: Carrie Dossick, University of Washington (co-Lead), John Messner, Penn State (co-Lead)
Education and Training: Glenda Mayo, in memoriam (University of North Carolina, Charlotte)
Legal and Insurance: Robert Middlebrooks, AIA
National BIM Program Development Team
Roger Grant, NIBS
John Messner, Penn State (Program Planning Coordinator)
Sandra Benson, Procore (former Steering Committee Member)
Phil Bernstein (Yale)
Angel A. Dizon, III, Coordination and Support, Bureau of Overseas Building Operations, U.S. Department of State (former Steering Committee Member)
Stephen Hagan, formerly GSA
Adam Matthews, Centre for Digital Built Britain & BEIS
Robert Middlebrooks, AIA
Nancy Novak, Compass Datacenters
Rachel Riopel, HDR
Van Woods, USACE
Program Partners
U.K. Department of Business
Energy and Industrial Strategy (BEIS)
ASHRAE
BIM Forum
Digital Twin Consortium
Success of the Program is critically dependent on expanding collaborative relationships and initiatives with industry organizations.
To become a Program partner, email us at USBIMProgram@nibs.org.
For additional questions about the U.S. National BIM Program or to get involved, please contact:
Program contacts
Johnny Fortune, Director of U.S. National BIM Program
Sarah Swango, Vice President, Corporate & Foundation Relations
Contact Us
Partnership or Supporter Inquiry