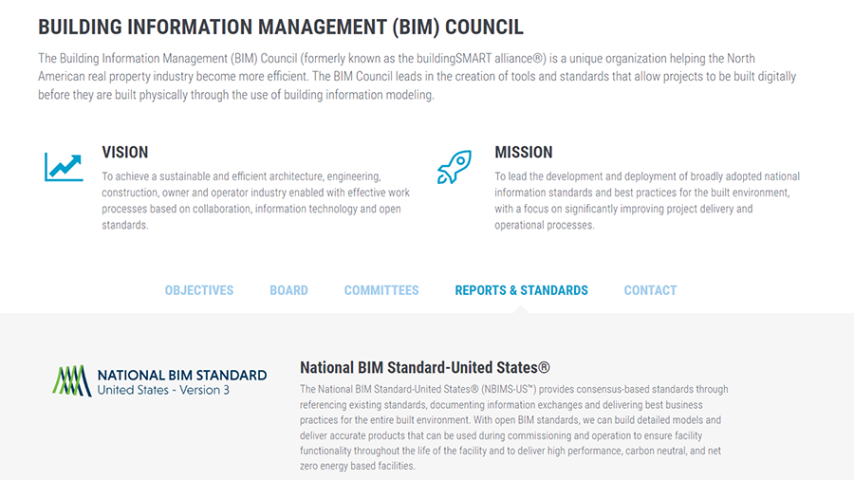 National BIM Standard-US Version 4 Nears Balloting Period
The National Institute of Building Sciences, Building Information Management (BIM) Council, partners, industry experts, and members have been working hard to complete the core modules of the next version of the National BIM Standard-United States (NBIMS-US).
NBIMS-US V4 has been three years in the making.
This fall, it's set to be unveiled at Building Innovation 2023 (BI2023) in Washington, DC.
There are several events you can expect over the next several months, starting this month.
The BIM Council is planning its All Members Spring Meeting for April 26. At this meeting, the council will present a number of modules nearing draft ballot status that will be released for NBIMS-US Project Committee (PC) and public review and comments in the coming months.
The NBIMS-US consensus process includes the opportunity for both public comment and member voting. NBIMS-US V4 is a consensus-based standard, and we need your input.
We Need Your Voice + Upcoming Dates to Keep in Mind
You must be a member of the BIM Council to participate in voting on the content and ratifying the standard. The ability to vote requires NIBS membership at least 28 days prior to the open of the ballot comment and voting period.
Be ready for the opening of the NBIMS Ballot Comment Period.
- Current BIM Council members are encouraged to check their membership, ensuring it does not lapse during the voting period.
- For past BIM Council members, this is the best time to renew your NIBS membership. This will allow you to not only comment, but also vote on the NBIMS-US V4.
- New members, join NIBS prior to May 1 to participate in the review and approval of NBIMS-US V4. NIBS membership allows for the participation in NBIMS-US V4 work, the BIM Council, and other NIBS councils.
NBIMS Consensus Process Schedule
The NBIMS PC Ballot Comment Period due to open on June 1, 2023, is scheduled to run through June 28, 2023. All comments submitted during the Ballot Comment Period will be discussed and resolved during the July 11, 2023 virtual NBIMS PC Comment Resolution Meeting. Following the meeting, NBIMS PC members will be asked to vote on the final NBIMS V4 candidate standard modules on the ballot. The NBIMS PC Ballot Voting Period will commence on August 7, 2023, and remain open until September 1, 2023. The results of the PC vote will be distributed to the full committee during BI2023 in early September. The NBIMS-US V4 release is planned for the end of September. 
Here's a list of what's coming up:
May 14 – NBIMS Planning Committee (PLC) announce NBIMS Project Committee (PC) and Public Review (PR) Draft Ballots Comments Period to open on June 1
June 1-28 – Open NBIMS PC and PR Draft Ballot Comments Period
July 11 – NBIMS PC & PR Comment Resolution Meeting
July 27-August 4 – NBIMS PLC to review and approve final draft ballots
August 7-September 1 – Final NBIMS PC Ballot Voting Period
September 5-7 – BIM Council to present NBIMS-US V4 content at Building Innovation 2023
Visit the BIM Council for more information and become a NIBS member today.