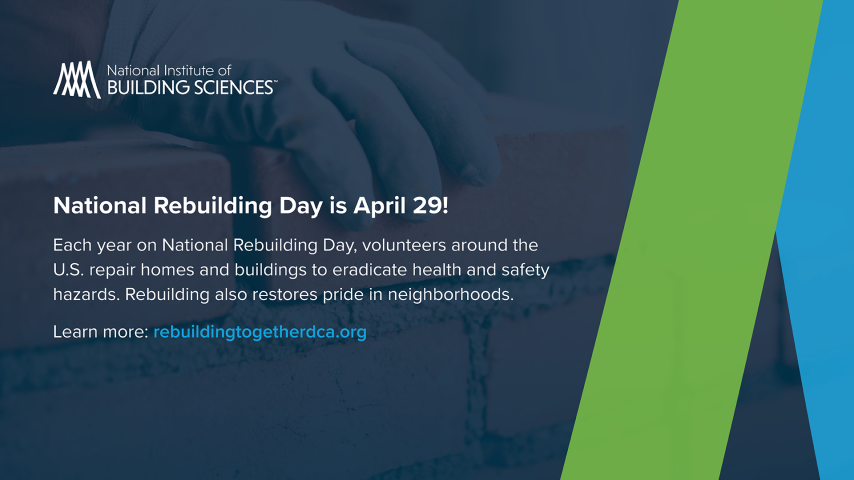 Rebuilding Together to Lead Over 1,000 Repair Projects For National Rebuilding Month
Each April, Rebuilding Together brings together volunteers across the nation for National Rebuilding Month, an annual call to service, to help solve the urgent need for safe homes and communities for those in need.
This year, Rebuilding Together affiliates will work with over 14,000 volunteers – veterans, older adults, families, and disaster survivors – to provide essential, health and safety home repairs, including flooring repairs and replacement, weatherization repairs, roof and handrail replacements, accessibility modifications, painting, landscaping, and other home rehabilitations. The repairs are provided free to those in need, who often are faced with diminishing resources.
National Rebuilding Day
National Rebuilding Month will culminate on National Rebuilding Day, Saturday, April 29, across America. Check out this National Building Day video from Rebuilding Together DC-Alexandria.
If you feel moved to take action, there are several ways to get involved:
Advocate for Rebuilding Together in your local community.
Donate or fundraise for a local Rebuilding Together affiliate.
Share on social media:

Post Rebuilding Togetherdownloadable graphics on social media
Use #RebuildingMonth on social media and join the conversation
Participate in the annual National Rebuilding Month Twitter chat (#NRMChat2023) on Wednesday, April 26.
The History of National Rebuilding Month
National Rebuilding Month began in 1973, when volunteers in Midland, Texas, got together to help a neighbor rebuild their home.
The group eventually founded Rebuilding Together, once named "Christmas in April," and began celebrating a month of service each year in April. Learn more at rebuildingtogether.org.