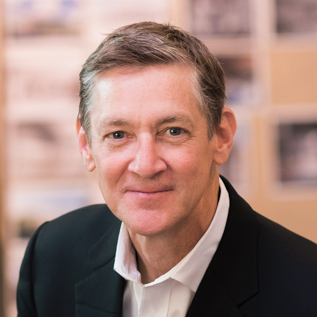 James Timberlake, FAIA
Vice Chair
KieranTimberlake, Philadelphia, PA
A founding partner of a Philadelphia-based architecture firm, James Timberlake is co-author of five books, has taught at a number of universities and is an award-winning architect.
He and Stephen Kieran, FAIA, founded the award-winning and internationally published architecture firm, KieranTimberlake, in 1984. Since its founding, the firm has received more than a hundred design citations, including the 2008 Architecture Firm Award, the highest honor bestowed on a firm by the American Institute of Architects (AIA), and the 2010 Cooper-Hewitt National Design Award.
Timberlake co-authored Manual: The Architecture of KieranTimberlake (2002), refabricating ARCHITECTURE (2004), which examines how manufacturing methodologies are poised to transform building construction and Loblolly House: Elements of a New Architecture (2008), a case study of a single building which shows a way forward to quality, productivity and sustainability.
At the University of Pennsylvania, Timberlake teaches a graduate design research studio. He has also served as Endowed Professor in Sustainability at the University of Washington College of Architecture and Urban Planning, Eero Saarinen Distinguished Professor of Design at Yale University, Max Fisher Chair at the University of Michigan, and has taught at Princeton University and the University of Texas at Austin. He lectures extensively in the United States and abroad.
Timberlake received a Bachelor of Environmental Science from the University of Detroit, with honors, and a Master of Architecture from the University of Pennsylvania, with honors. He was awarded the Rome Prize from the American Academy in Rome in 1982 and the prestigious Benjamin Latrobe Fellowship for architectural design research from the AIA College of Fellows in 2001.