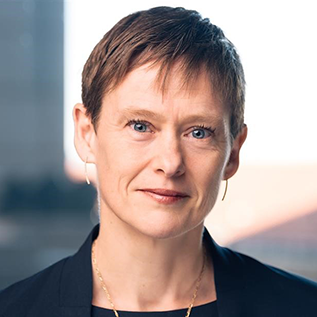 Fiona Cousins, PE, FCIBSE, LEED Fellow
Board Member
ARUP, New York, NY
I am Arup Americas' Sustainable Development Leader and the Deputy Chair of the firm's Digital Executive. I am also a member of Arup's Group Board.
My background is as a building services engineer and I have focused throughout my career on the energy efficient design and sustainability impacts of buildings. As more data has become available from buildings, and the built environment, this has enabled a sharper focus on the ways in which engineering design can impact sustainability outcomes. I have become passionate about working at the intersection of sustainable design, digital transformation and the built environment.
I work across the firm to expand our approach to sustainable development and digital working through skills development and an emphasis on delivering excellent results for our clients.
I have led multiple complex interdisciplinary building projects. I also led the establishment of Arup University in the Americas, developing learning and managing research.
As an industry leader, I have chaired the United States Green Building Council, Urban Green Council, and gave the CIBSE 2016 Annual Lecture "How building services engineers can save civilization," and co-authored Two Degrees: The Built Environment and our Changing Climate. I currently serve on NYC's Climate Mitigation Act Advisory Board and as a vice-president of CIBSE.